The New Normal: In Our Community
Telluride, Colorado, is an idyllic mountain town filled with dreamers, adventurers and idealists. We mountain folk have a responsibility to this incredible place we call home. Though many efforts are underway in Telluride to mitigate greenhouse gas emissions, our community's total emissions continue to grow. While areas like food and transportation contribute to this challenge, business and residential electricity use currently makes up 57.1 percent of our community's emission footprint.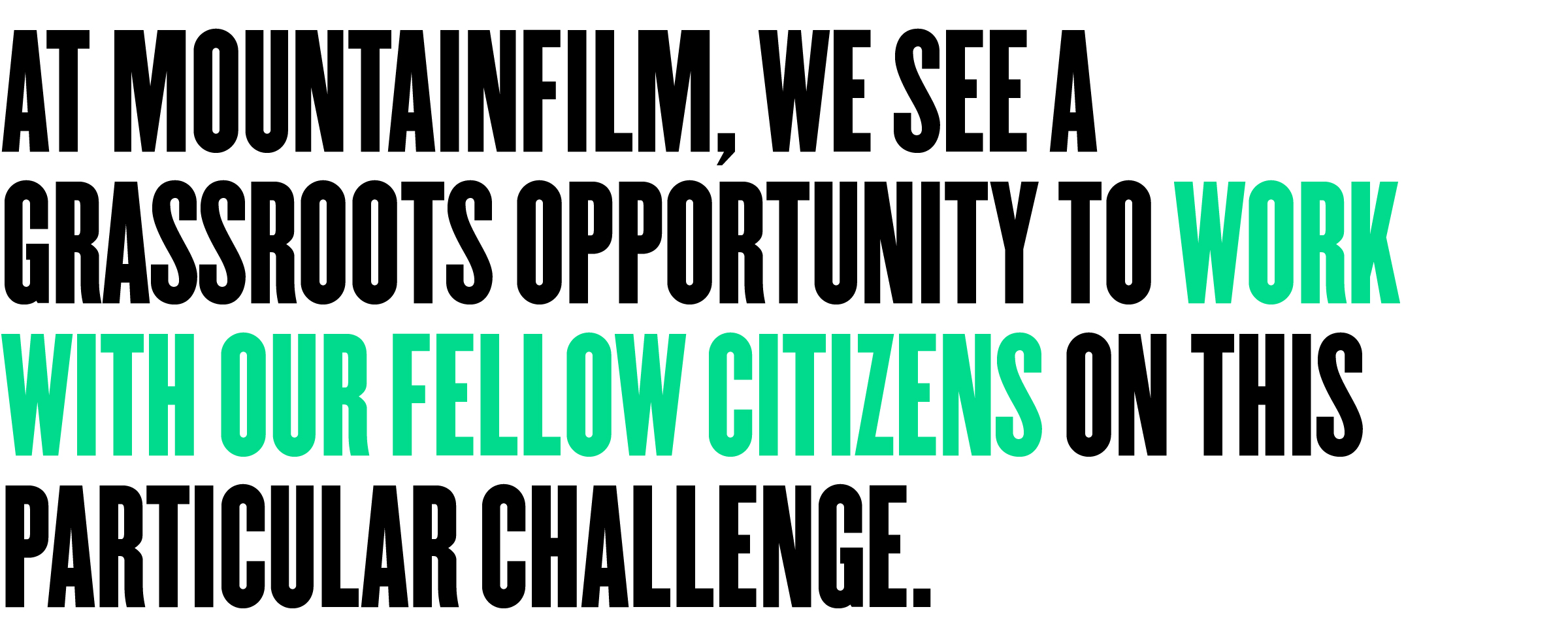 Together, we can advance our region toward carbon neutrality:



Mountainfilm will recruit Telluride businesses and organizations to become New Normal Launch Partners by committing to carbon reduction actions.
 

Individual townspeople have the opportunity to impact their carbon footprint, as well. If you are reading this and call the Telluride region your home, sign on to The New Normal and take the following plug-and-play, painless-as-they-come actions:

Read books, listen to podcasts and TED talks, watch films and stay informed on the latest climate change science and solutions. Attend Mountainfilm's 2017 Symposium on The New Normal, which will feature climate action experts, such as Ashton Hayes' Gary Charnock, Climate Interactive's Drew Jones, former White House Science Tsar John Holdren and environmentalist Paul Hawken. Don't limit yourself to the symposium — the 2017 festival will also feature films, coffee talks, books, art exhibits and more on the subject. And calculate your carbon footprint with this easy-to-use tool from Cool Climate to tally your footprint: for residential or business.

Sign up with EcoAction Partners Greenlights program to get LED lighting at up to a 75-percent discount through oTelluride's Ace Hardware. Traditional incandescent light bulbs use up to 5 percent of a home's energy use. ENERGY STAR-qualified LEDs use only 20 to 25 percent of the energy and last up to 25 times longer than traditional incandescent bulbs. Switching your household's lighting source from traditional incandescent bulbs to LEDs saves energy and money. Other reduction options: Eat less meat, carpool, unplug your appliances, insulate your home and air-dry your clothes. 

If you are like many locals and travel frequently, offset those travel emissions by investing in a renewable or carbon saving project such as the one Mountainfilm is using to offset its 2017 festival and tour travel. We are working with the Pinhead Climate Institute on a project that will place a permanent and perpetual conservation easement on the family-owned May Ranch, which encompasses 16,480 acres of threatened shortgrass prairie in Prowers County, Colorado along the Arkansas River. The pristine ranch is threatened on all sides by conversion to cropland agriculture and even a feedlot. Conservation easements and carbon offset payments will ensure that these healthy soils of the shortgrass prairie remain intact forever. Learn more about greening your travel — carbon offsets for a roundtrip flight only cost about $15.
Or sign up to purchase renewable power to fuel your home through San Miguel Power Association's Green Power Blocks program. Did you know that the average Telluride resident can purchase 100 percent renewable energy to fuel a home for $8 per month through the SMPA's Green Power Blocks program? Not only is this program cost effective, it also ensures the continued installation of renewable energy in our region. Additionally, sign up for SMPA's Green Cents program, which rounds your bill up to the nearest dollar, and the surplus money goes into the Green Blocks fund.

Show your support for an increase in renewable energy: Along with working on your own carbon neutrality, advocate for the policies and infrastructure to support renewable energy on a local and state level. For this round of the New Normal, we invite you to support the development of a new Telluride-area community solar farm by signing the San Miguel Power Association Community Solar Power Pledge today. 

Talk about climate change solutions with your friends and family. Post about climate change on social media. Share your accomplishments. Mountainfilm will celebrate you at our festival and beyond. 
FOR MORE INFORMATION
Town of Mountain Village - Green Living
The Solutions Project
The Oberlin Project
Ashton Hayes Going Carbon Neutral
Planet Bluegrass Sustainability
Project Drawdown
ARE YOU READY TO COMMIT TO TAKE THESE FIVE STEPS TO CREATE A BETTER WORLD?