The New Normal: In Our Audience
Our festival goers are an inspired and active lot who seek adventure, beauty and profundity.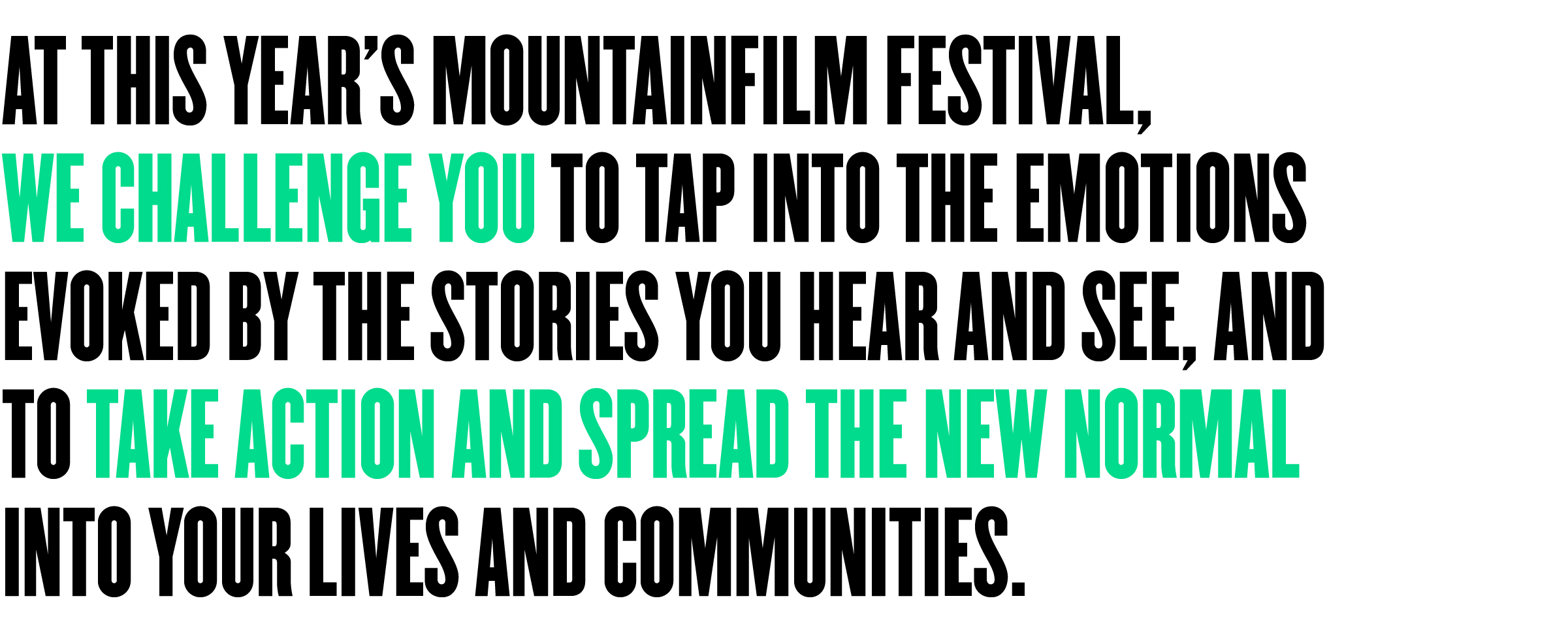 Here are some opportunities:

There are ample options for learning about climate change actions and solutions at the 2017 festival: Attend the Symposium; check out the Reading Frenzy; go to a Coffee Talk; or take in some art at the Gallery Walk. Learn about your own imprint and figure out ways you can lower it by attending our carbon footprinting workshop during the festival. If you aren't able to attend the workshop, check out this easy-to-use tool from Cool Climate to tally your footprint: residential or business.
 

Eat vegetarian, eat local — All Mountainfilm meals are vegetarian. And for a reason: The average American household's diet produces 8 tons of carbon emissions. By eating vegetarian one day a week, the average American can drop that meal's food footprint tenfold, which is the equivalent of not driving 63 miles. During the festival and after you return home, cut down on meat consumption. 
Go zero waste — We've got water stations and food aplenty at the festival. Help us to keep down our waste by bringing your reusable cups and bowls. Also if you are tech savvy, use our app instead of printing the program. Be sure to recycle or compost the waste you do create.
Walk, bike, bus, gondola — Telluride is a tiny town best enjoyed on foot, two wheels or via public transportation. Find Galloping Goose bus information or enjoy the free gondola to and from Telluride and Mountain Village. Loaner bikes are available at Wilkinson Public Library. And when you return home from Mountainfilm, do your best to carpool, bike commute or leave that car parked. 
Reduce energy in your daily life. Air-dry your clothes, unplug appliances, change out incandescent lightbulbs with LEDs, buy reused or recycled items, carpool to work. Don't purchase new stuff unless you need it. 

Offset your travel emissions associated with getting to and from the festival by investing in a renewable or carbon saving project such as the one Mountainfilm is using to offset its 2017 festival and tour travel. We are working with the Pinhead Climate Institute on a project that will place a permanent and perpetual conservation easement on the family owned May Ranch, which encompasses 16,480 acres of threatened shortgrass prairie in Prowers County, Colorado along the Arkansas River. The pristine ranch is threatened on all sides by conversion to cropland agriculture and even a feedlot. Conservation easements and carbon offset payments will ensure that these healthy soils of the shortgrass prairie remain intact forever. Learn more about greening your travel — carbon offsets for a roundtrip flight only cost about $15.

Communicate with your elected officials back home.
Partner with existing organizations in your town.
Help us be better — carbon neutrality is a task for the masses. Help us improve our efforts. Please leave a suggestion below if you have an idea for Mountainfilm's next steps toward The New Normal.

Share your stories of action, and tell the world about #mfilm17 on Facebook, Instagram, Twitter and in your home community. Be sure to tag @mountainfilm!
 
ARE YOU READY TO COMMIT TO TAKE THESE FIVE STEPS TO CREATE A BETTER WORLD?