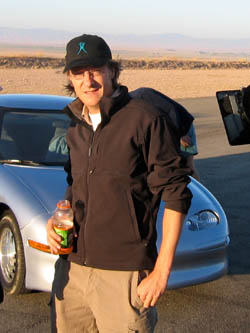 Christopher Paine
Chris Paine's award winning documentary feature film Who Killed the Electric Car? premiered at the Sundance Film Festival in 2006 before its worldwide release by Sony Pictures Classics. Three years in the making, the film's murder mystery spin on an almost unreported story captured public attention and stimulated substantive change in the industry.

Previously, Chris served as executive producer on FASTER, Mark Neale's 2003 cult film (with narrator Ewan McGregor) about the world's fastest motorcycle race. The same team also made No Maps For These Territories about cyber-punk visionary William Gibson. No Maps featured U2's Bono and was named Best Documentary by the Los Angeles New Times in 2001.

Chris directed segments for the MTV television series BUZZ and online content for Apple Computer. He began his LA career assisting writer/producer Michael Tolkin on the feature films The Player (1992), and The New Age (1994). His first producing effort Mailman (director Matthew Carnahan) premiered at Sundance in 1995. He also directed the WW2 memoirs Looking Back and Return to the Philippines.

Outside of media, Chris is an entrepreneur and environmentalist. His technology company Internet Outfitters went public in 1999 as part of AppNet/CommerceOne. His firm Mondo-tronics, (founded with his highschool friend Roger Gilbertson) provided materials for the Mars Pathfinder mission. Chris' activist work included campaigns to stop nuclear testing in Nevada, freeway expansions in California, and deforestation.

Chris studied at the Neighborhood Playhouse with Sanford Meisner, at Stanford with Jon Else, and at NYU's film school. He is a graduate of Colgate University.