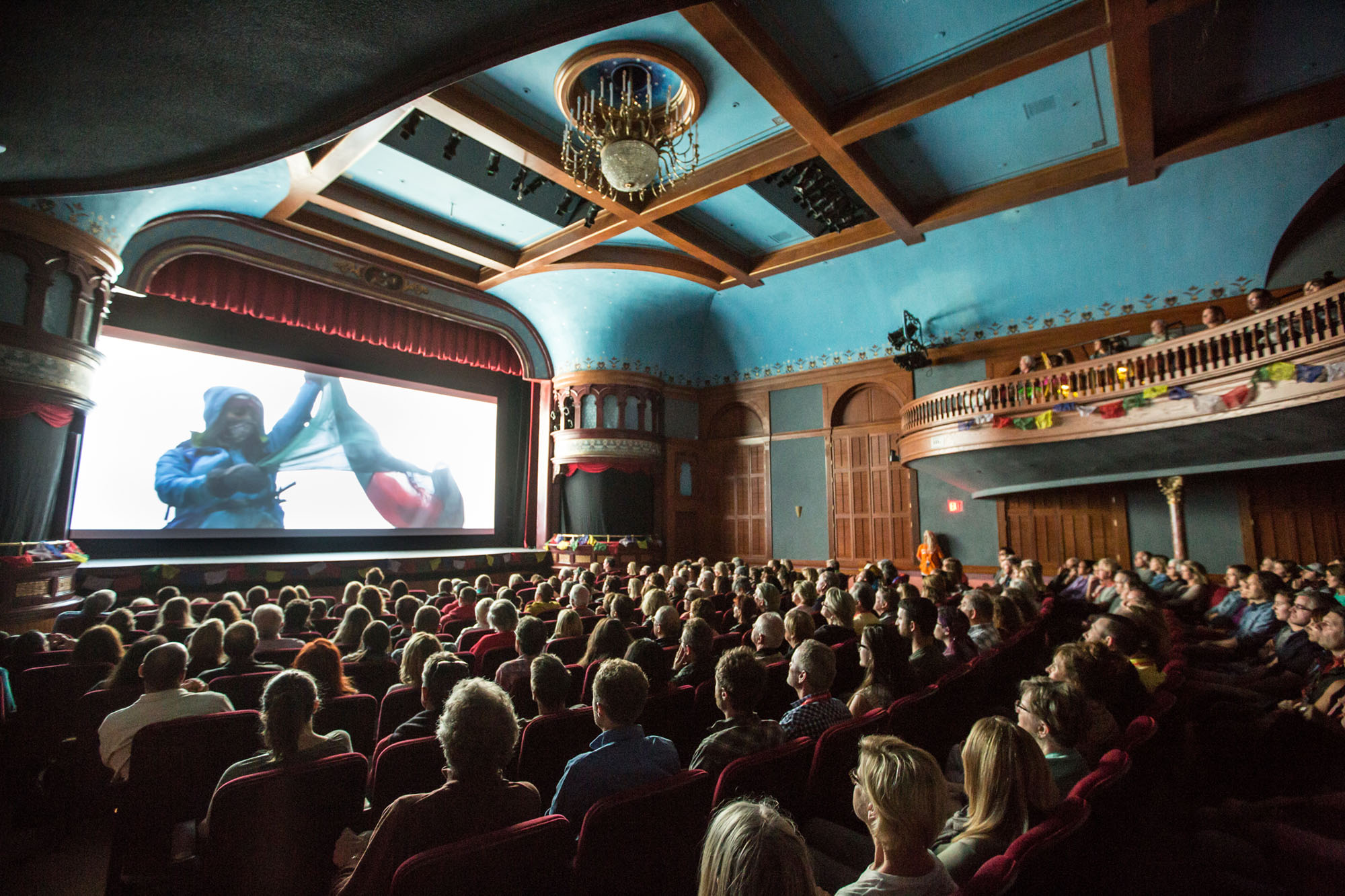 May 18, 2017
Thank You to the All-Star Tour Filmmakers and Guests
As we close out the 2016-17 Mountainfilm on Tour season, we're filled with overwhelming gratitude for the filmmakers and guests who made this year's efforts unforgettable. It was a record-setting year for the tour, reaching over 70,000 people worldwide, including 20,000 students. The tour serves an essential part of Mountainfilm's mission to inspire audiences to create a better world, and we couldn't do it without all the filmmakers who share their films on tour.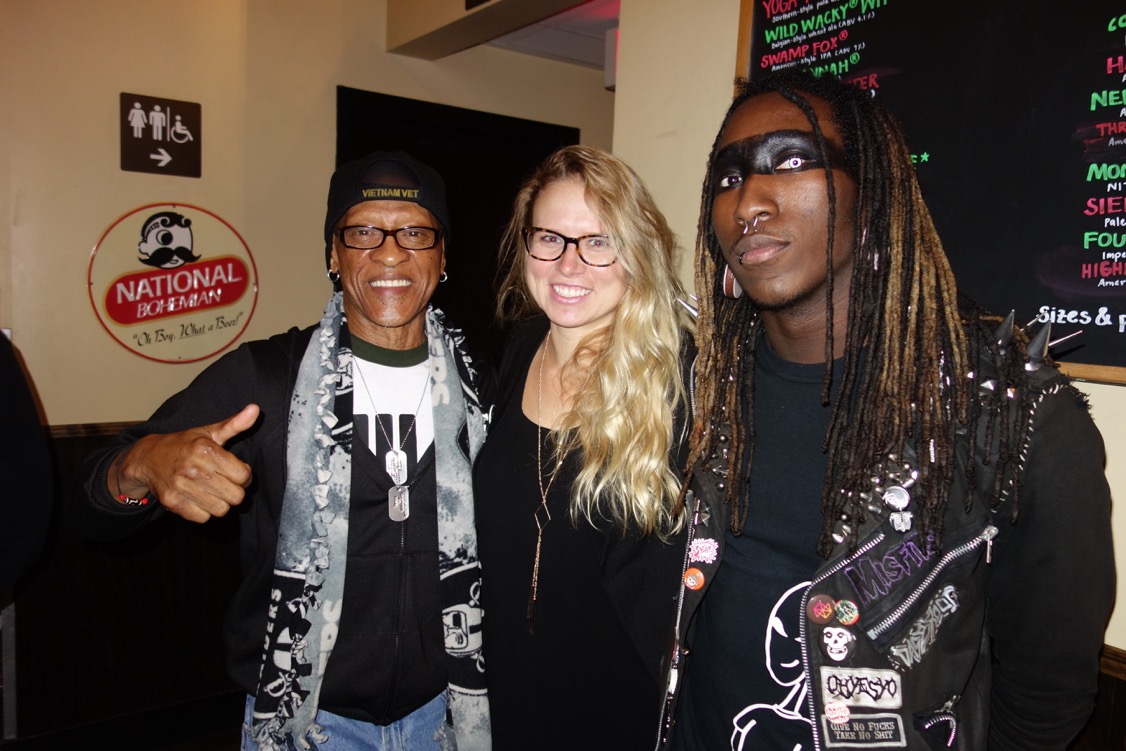 Johnnie Jameson, Crystal Merrill & Coffin Nachtmahr
Reflecting on some of the memories from this season, I can recall many heartwarming moments, like spending an incredible weekend deep in the redwoods of Mill Valley, California, staying in a house that was brimming with amazing directors and characters: Sierra Quitiquit (Sierra Quitiquit: How Did I Get Here), Michael Collins (Almost Sunrise), Tom Voss (Almost Sunrise), Anthony Anderson (Almost Sunrise), Steve "Doom" Fassbinder (The Adventure Dispatch), Coffin Nachtmahr (Throw) and Samantha Smith (1-800-Give-Us-Your-Kidney). I'll never forget the emotional Q&A with Daphne Owen in Atlanta (Clinica de Migrantes) after she watched the film for the first time on a big screen or seeing Nachtmahr surrounded by a swarm of students completely mesmerized and starstruck.

Along the way, we received feedback from audiences members and students that were reminders of how documentaries films are a powerful and inspirational tool to effect change. As one little girl put it, "I liked seeing Angel Collinson (Angel Annihilates Alaska) ski because girls can do anything."


Cara Bunch, Sage Martin, Harold Mintz & Johnnie Jameson
Mountainfilm Tour & Education Manager Cara Bunch shares some of her favorite moments from this season:
"This year has been full of many unforgettable moments. It's been remarkable to see everyone from small children barely able to talk to adults watch these films with the same look of wonder in their eyes. I've felt honored to share this experience with so many incredible individuals, both filmmakers and subjects. I'll never forget seeing a theater of over 2,000 inner-city students in Savannah, Georgia, stand with a roaring round of applause as Harold Mintz took the stage after screening 1-800-Give-Us-Your-Kidney. These films have given students around the world the opportunity to learn about people, places, cultures and issues that they didn't even know exist. I love seeing the excitement and inspiration that these films bring to the next generation."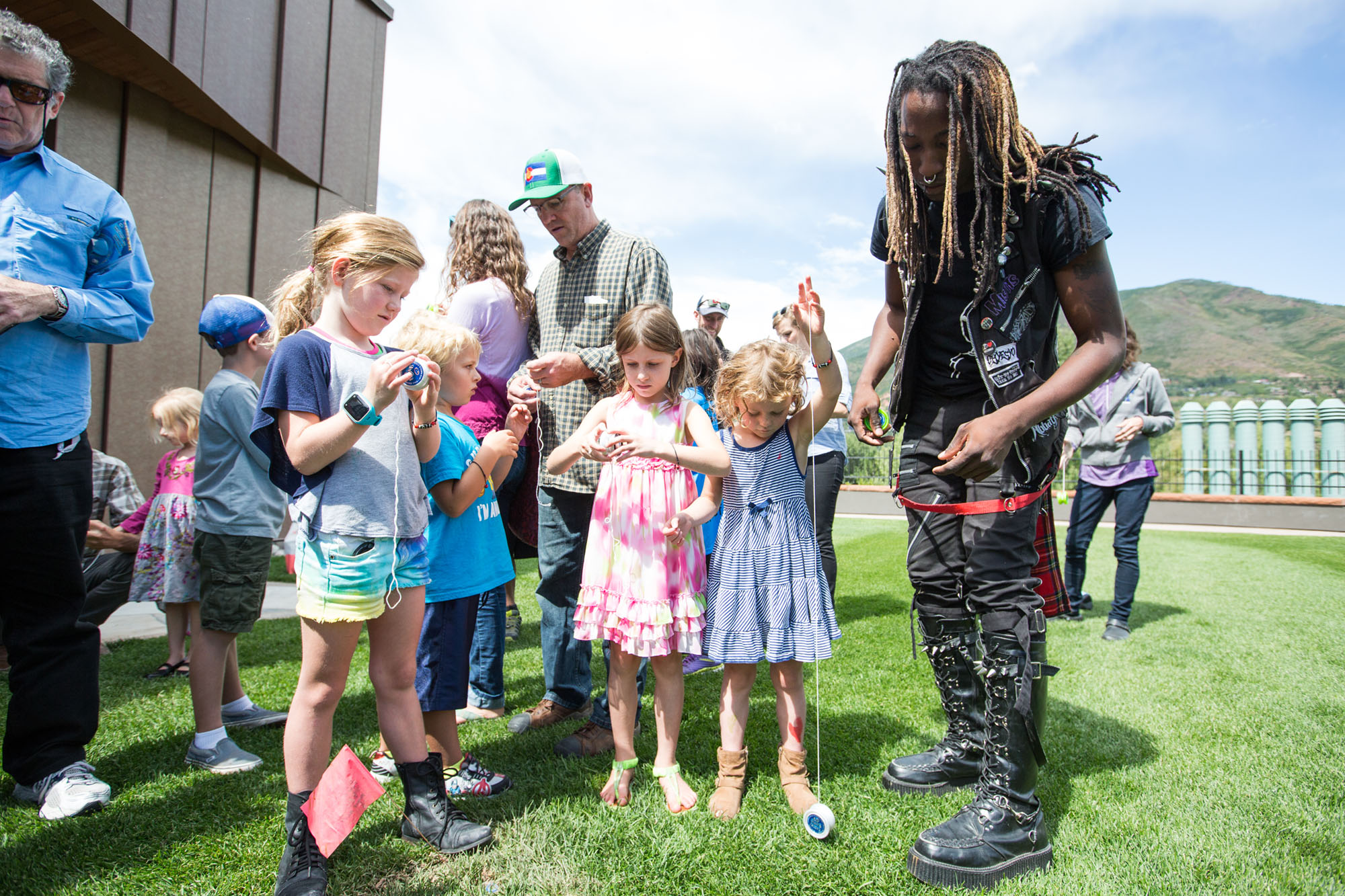 Coffin teaches kids how to yo-yo in Aspen. Image Credit Zach Mahone
And Tour Programming Coordinator Naani Sheva hits her highlights:
"In April, we were lucky enough to have Harold Mintz and Johnnie Jameson (Mile 19) join us for a weekend in Montrose, Colorado. These two are the epitome of wonderful and make every show meaningful with their openness and honesty. Things I'll remember include the audience singing "Happy Birthday" to Harold and his kidney on the eve of their birthday and Johnnie receiving a standing ovation from the dewy-eyed crowd after they watched Mile 19. These, and the hundreds of student's faces, stand out as some of the most profound moments of inspiration and community that comprise Mountainfilm on Tour."
We have a long list of remarkable films that screened on the 2016-17 tour, and we'd like to thank the all-star filmmakers and guests who spent time on the road traveling with us:
1-800-Give-Us-Your-Kidney: Samantha Smith & Harold Mintz
50 Feet From Syria: Skye Fitzgerald & Dr. Hisham Bismar
Ace and the Desert Dog: Brendan Leonard, Forest Woodward & Ace Kvale
Almost Sunrise: Michael Collins, Marty Syjuco, Tom Voss & Anthony Anderson
BUGS: Andreas Johnsen & Jose Redon
Clinica de Migrantes: Maxim Pozdorovkin & Daphne Owen
Edges: Katie Stjernholm & Jonathan Hiller
High and Mighty & Showdown at Horseshoe Hell: Sender Films
Holy (un)Holy River: Pete McBride & Jake Norton
Sierra Quitiquit: How Did I Get Here: Chris Kitchen & Sierra Quitiquit
Joe Lahout: Anthony Lahout
Life, Animated: Roger Ross Williams, Cornelia, Ron and Owen Suskind
Mile 19: Vincent DeLuca & Johnnie Jameson
Nascent: Lindsay Branham & Jon Kasbe
StrongWater: Jordan Halland
The Accord: RC Cone & Heiðar Logi
The Adventure Dispatch: Warren Kommers and Doom
The Age of Consequences: Jared Scott, Sophie Robinson & David W. Titley
The Happy Film: Ben Nabors
The Mysteries: Skip Armstrong & Krystle Wright
The Sculptor of Damascus: Gabriel Lifton-Zoline
The Super Salmon: Ryan Peterson, Melissa Heuer, Mike & Molly Wood
Throw: Darren Durlach, Dave Larson & Coffin Nachtmahr
To Scale: The Solar System: Wylie Overstreet
Walt: Justin Clifton
When We Were Knights: Anson Fogel & Matt Blank
Our sincerest thanks to all of the filmmakers whose films were on our tour!
–Crystal Merrill, Mountainfilm Tour Director