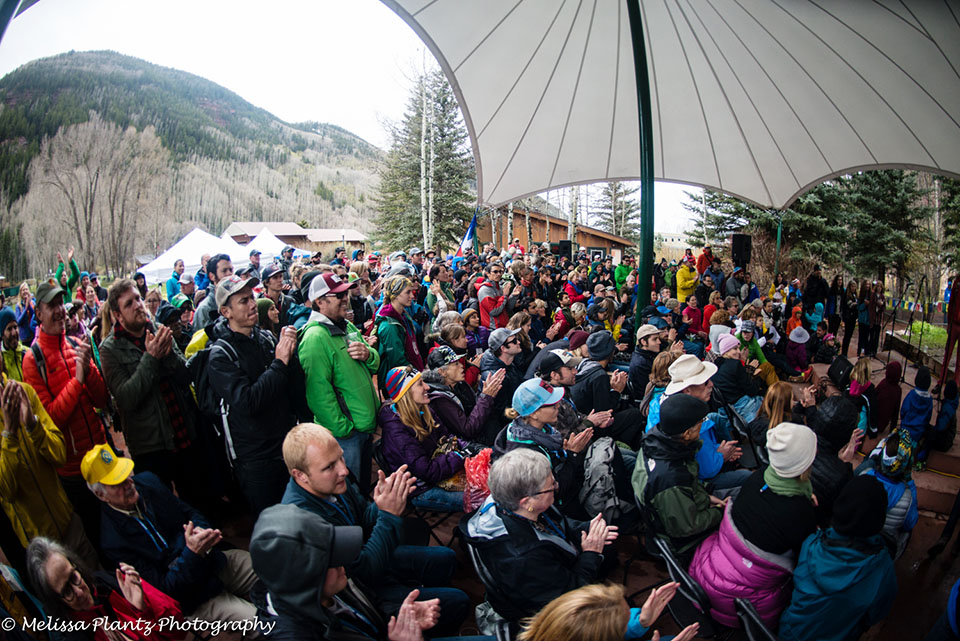 May 26, 2015
Telluride Mountainfilm Announces 2015 Festival Awards
Unbranded, Down to Nothing, Meru, Body Team 12 among winners
Telluride, Colorado (May 27, 2015) – There were astonishing feats of climbing, incredible achievements of the human spirit and inspiring acts of activism. But in the end, it was an epic horseback trip by four friends and a handful of wild mustangs that stole the hearts of the 2015 Telluride Mountainfilm Festival audience.
Unbranded took home the 2015 Audience Choice Award. The film, directed by Phillip Baribeau and produced by Dennis Aig, unfurls an incredible story of adventure and self-discovery while spotlighting the plight of wild horses in America.
"I knew as soon I saw Unbranded that it was a likely Audience Award winner," said Mountainfilm Festival Director David Holbrooke. "It's such a big epic story and obvious crowd pleaser. Having Ben Masters and [film subject] Val Geissler here made it all the more so."
Unbranded joins a roster of stunning documentaries that took home prizes at this year's festival. Among the winners was the exceptional climbing feature Meru, which won the Charlie Fowler Award; the harrowing but gorgeous expedition film Down to Nothing, which took home the Cinematography Prize; and the Ebola Orphan Project, the nonprofit featured in the arresting short film Body Team 12, which walked away with the $3,000 Moving Mountains Prize.
The Moving Mountains Prize, a cash prize that goes to a nonprofit featured in a film, was given an unexpected boost by jury members Cheryl Strayed, Rebecca Martin and Juan Martinez. The jury donated an extra $1,500 to go toward two runners up: the Ubumwe Community Center featured in I Am Able received $1,000, and Recycled Orchestra featured in Landfill Harmonic, received $500.
The recognition of such far-flung organizations (projects are located in Liberia, Rwanda and Paraguay) proves that Mountainfilm's spectrum is global, Holbrooke said.
"I was also particularly gratified to see Farzana Wahidy honored with the Norman Vaughan Indomitable Spirit Award," Holbrooke said. Wahidy, a pioneering female Afghan photojournalist, is one of the subjects of the film Frame by Frame, which took home this year's Student Award.
Along with Wahidy, special guests to Mountainfilm included everyone from Colorado-based climbing star Tommy Caldwell to cartoon editor of The New Yorker Bob Mankoff, Austrian alpinist Gerlinde Kaltenbrunner, big mountain snowboarding star Jeremy Jones and Rwandan amputee painter Frederick Ndabaramiye.
"Mountainfilm has such a broad perspective, and it's so special to have all these visitors from around the world coming to Telluride and being embraced by Mountainfilm," Holbrooke said.
All in all, he said, it was one for the books.
"I was pleased at how well we managed to put on a smooth-running festival, despite an increase in audience numbers and challenging weather," Holbrooke said.
The complete 2015 Mountainfilm Festival Awards are as follows:
Student Award
Frame by Frame
Norman Vaughan Indomitable Spirit Award
Farzana Wahidy
Cinematography
Down to Nothing
Festival Director's Award
Dean Potter
Audience Choice
Unbranded
Moving Mountains Prize
Body Team 12, $3,000
I Am Able, $1,000
Landfill Harmonic, $500