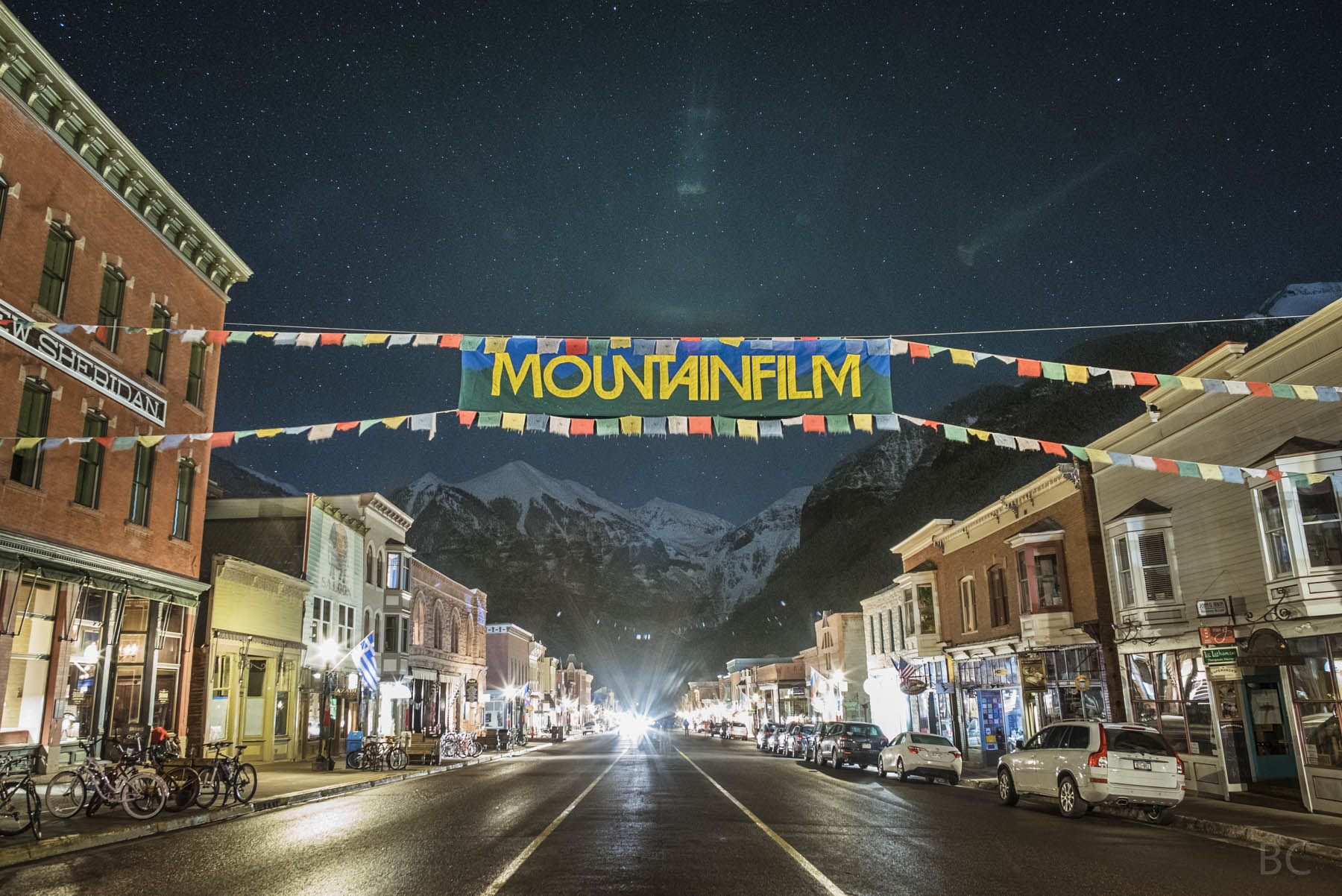 July 14, 2015
Telluride goes [mostly] dark for inaugural Dark Sky event
Mountainfilm, town work together for one-of-a-kind program
Typically, the only souls found roaming Telluride's streets at 3 a.m. are bears and the occasional insomniac. But on May 24 during Telluride Mountainfilm, roughly 80 people — photographers, astronomy fans and festival attendees among them — gathered in front of the San Miguel County Courthouse during the witching hour for a one-of-a-kind event that celebrated the night sky.
Mountainfilm's Dark Sky event, which was organized through a partnership with the Town of Telluride and photographer Ben Canales, represented what is believed to be the first attempt of an American town to shut off all its lights in order to obtain an unadulterated view of the stars.
The event saw mixed results, as some private lights were left on. Despite that, Canales said the enthusiasm among participants was huge. Canales thinks there is room for improvement and he and Mountainfilm hope to do it again, only better.
"People were so stoked about it," Canales said. "I'm all fired up to give this a go again."
The event was the brainchild of Canales, who hatched the idea after shooting night images of Telluride while attending Mountainfilm in 2014.
Venturing out of town one night to set up photos, he said, "I was just shocked at how quickly the view of the stars became amazing."
It occurred to him, he said, that if he could get the town to agree to turn off its lights, it would open up amazing opportunities for photography and double as a conversation starter on light pollution. Canales approached Mountainfilm with the idea late in the winter, and the festival jumped on the idea.
"The event fit Mountainfilm in many ways," said Program Director Katie Klingsporn. "It was an opportunity to raise awareness in a bold way about an important issue and get our audience outside to celebrate the outdoors through images."
The Town of Telluride agreed to participate by having staff shut off all town street and facility lights, and the festival did outreach to private homeowners and businesses, imploring them to switch off all lights before going to bed the night before the event. Still, going into the first event ever, there were a lot of unknowns and hurdles.
The biggest one turned out to be the weather; snowstorms and cloudy skies leading up to the event created uncertainty that it could be pulled off. But at about 10 p.m. on Saturday night, the skies miraculously cleared.
And at 3 a.m., nearly 80 people showed up — an amazing turnout considering that snowflakes were falling only hours before. But while the enthusiasm from the crowd was high, participation by property owners wasn't 100 percent, and a few lights were left on, affecting the view of the stars.
"It's just the crazy nature of light where a few light bulbs scattered around look like a lot of light," Canales said.
Telluride Town Manager said from a town perspective, turning off the lights was a fun exercise and a cause the council was happy to support.
"This was an opportunity to be part of something really cool," Clifton said. "I think that the bigger issue of light pollution and what we can do here to minimize our light trespass on starry skies ... is on everybody's mind. I think that's just where the conversation starts. I don't think that's where it ends."
Canales hopes the photos and video from the event help encourage people to go completely black next time and continue the conversation about light pollution.
"I think it's a new nature awareness that hasn't really been a cultural topic until recently," Canales said. "In two generations we've lost all touch of what a starry night looks like because we all live in cities. But photos remind people that the stars are still out there. We tried this once. Now let's go bigger."