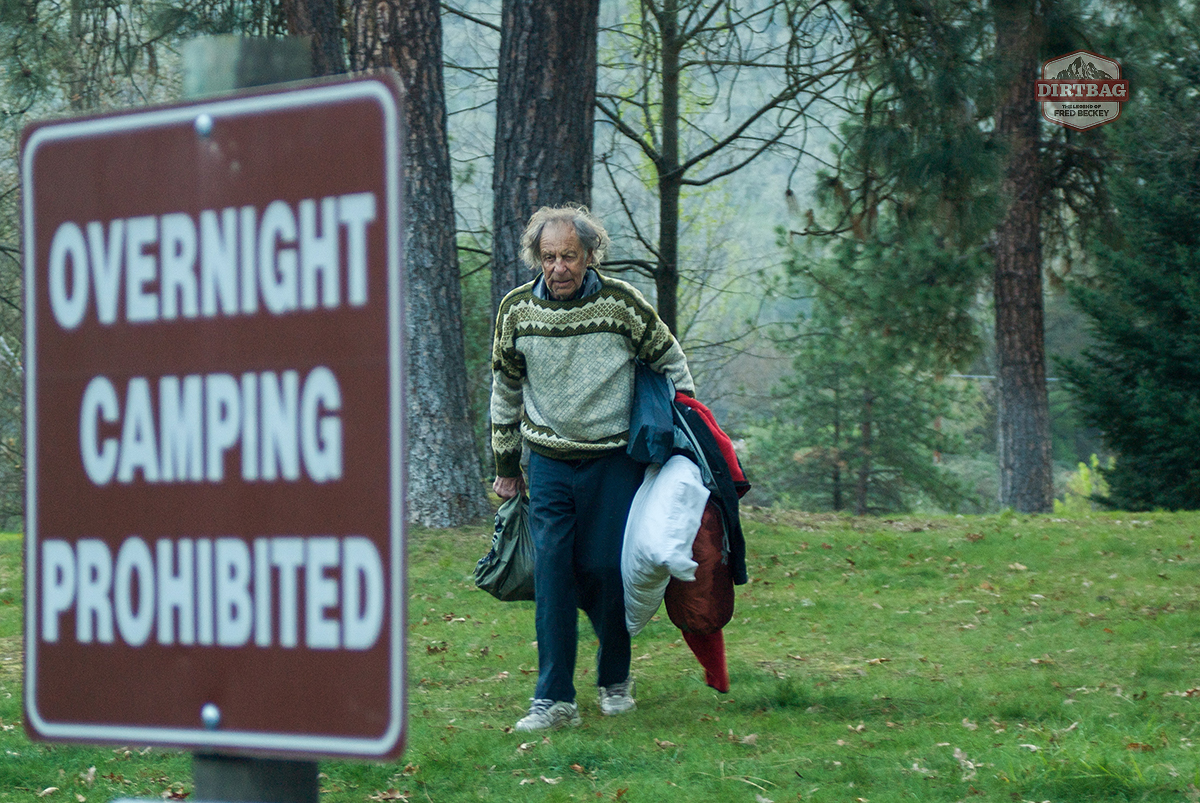 November 6, 2017
Remembering Katie, Fred & Ross
Mountainfilm celebrates the lives of three festival luminaries

Last week, the Mountainfilm family was saddened by the loss of three luminaries in our community: spitfire river goddess Katie Lee, 98; legendary climbing pioneer Fred Beckey, 94; and longtime festival tech guru Ross Krantz, 83.
Rabble-rousing desert activist. Unrelenting alpinist. Peerless projectionist. Each was an indomitable spirit who left indelible marks on our community, inspiring us with their determination, passion, boldness, courage and expertise. All will be missed tremendously.
But in our world of cutting-edge and often risky adventure, where we often lose friends and loved ones too early, there is a silver lining. Each of these incredible individuals lived long, accomplished and colorful lives filled with meaning and experience. Beckey's climbing career spanned an astonishing 70 years and hundreds of first ascents; Lee spent a staggering six decades fighting for the removal of the Glen Canyon Dam; and Krantz was an integral part of Telluride festivals for nearly 40 years.
When you think about it in these terms — the countless lives touched, the incalculable adventures bagged, the number of individuals influenced, motivated and spurred to action by these people — it throws into clarity just how monumental their lives were. Each followed their passions until they were old and gray, after all. It's the ultimate achievement.
And in that spirit, Mountainfilm is celebrating their stories, honoring their legacies and finding inspiration anew by their singular lives.
---

Fred Beckey (January14, 1923-October 30, 2017)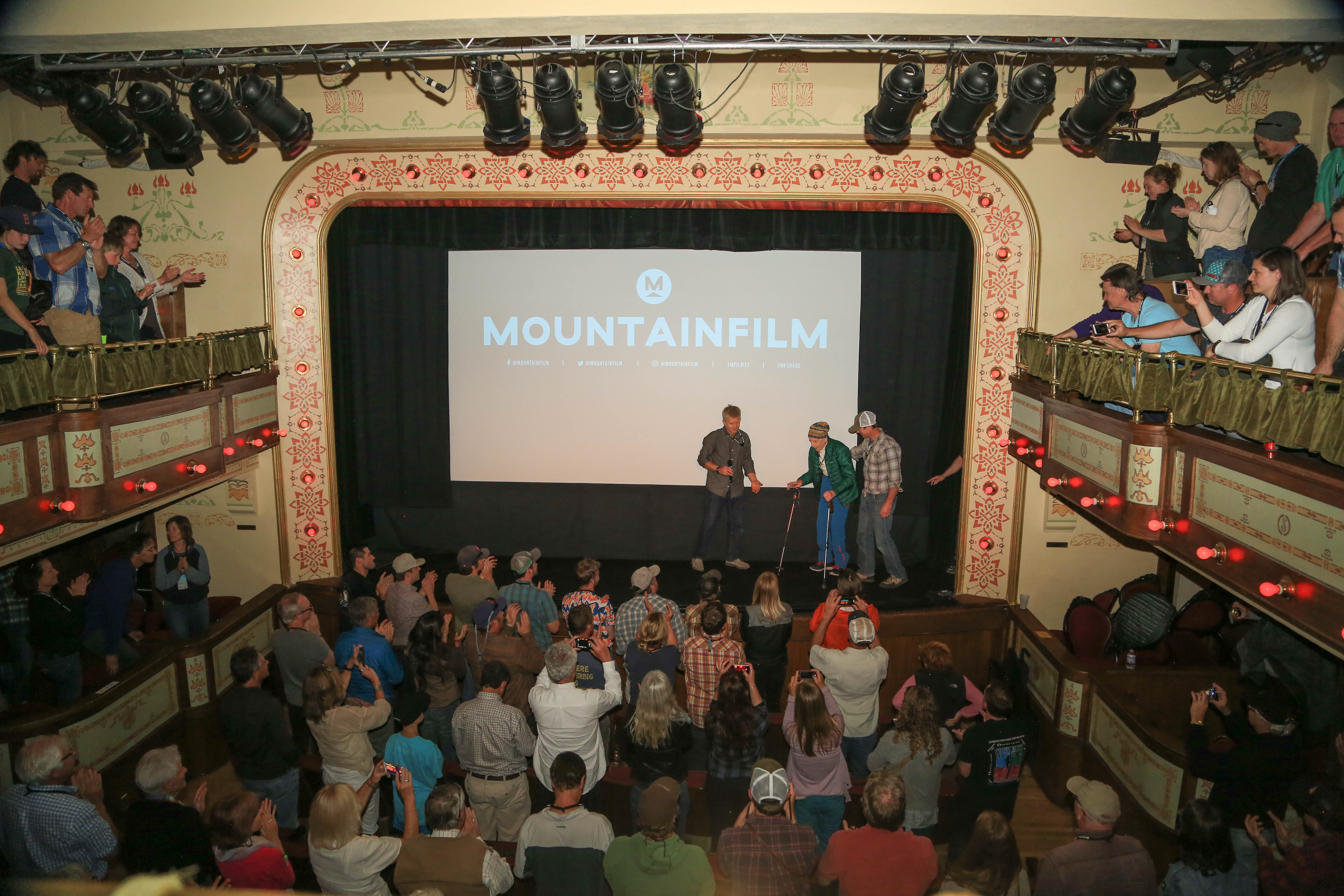 Fred Beckey on the Sheridan Opera House stage during the 2017 Mountainfilm premiere of Dirtbag: The Legend of Fred Beckey. (Photo courtesy of Dirtbag: The Legend of Fred Beckey)
Beckey was one of the most accomplished, prolific and unrelenting climbers in the history of the sport. He was also one of its most under-the-radar names, a man who preferred being on the crag to being in the spotlight. He was dogged in his pursuit of his passion and carved a reputation as the original dirtbag, scrimping and saving his entire life to maximize time spent in the mountains.
His climbing career started as a teen when he and his brother made an audacious summit of Mount Despair, a 7,292-foot peak in Washington considered by many at the time to be unclimbable. That set the tone for a life spent pioneering routes, exploding expectations, writing scores of guidebooks and breaking new ground in the mountains. His obsession never wavered; he climbed well into his 90s.
Beckey's life was the subject of the feature documentary Dirtbag: the Legend of Fred Beckey, which premiered at Mountainfilm in 2017. Beckey attended the festival with the film crew, where he was treated to standing ovations. Film director Dave O'Leske called Beckey "indomitable spirit embodied."
"Fred was a true American icon. His legacy is profound, and he has inspired countless people to explore this amazing planet," O'Leske said. "We are honored to have known Fred, and our memories with him will live on forever."
---

Ross Krantz (November 17, 1933-October 30, 2017)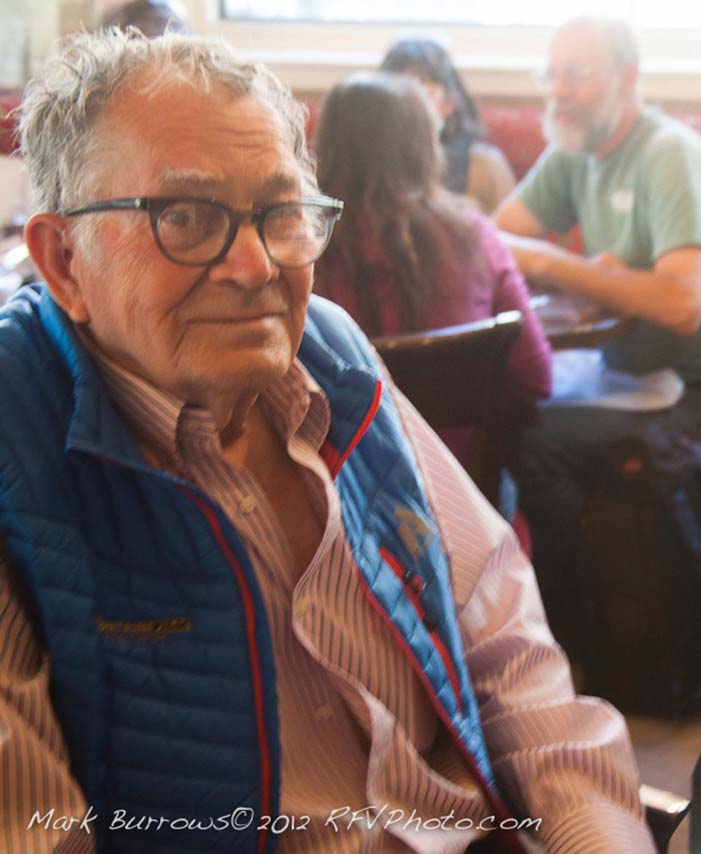 Ross Krantz at the 2012 Mountainfilm Festival. (Photo credit: Mark Burrows)
Krantz was an paragon of projection and technical expertise who played an integral role in Mountainfilm's behind-the-scenes work for many years.
He was born in New York and studied journalism at the University of Missouri in Columbia. It was there that he discovered his love of projection, sound and all things mechanical. He worked with RCA in Chicago and later started his own company, Cinema Engineering Services, in New Mexico, which serviced movie theaters and show venues across the west.
One of those was Mountainfilm, which he contributed to from its early years until 2016. He was the festival's first technician and technical director, and he can be credited for building Mountainfilm's reputation for excellent projection quality, professional sound and technical acumen.
Former festival producer Stash Wislocki recalls that each year, Krantz would roll into town with enough spare parts in the trunk of his car to fix all of Mountainfilm's 16mm or 35mm film projectors on the fly. As Mountainfilm moved into the digital age, Wislocki said, Krantz reminded the organization that its roots were in film.
"He was the last of the old film guard," Wislocki said. "He will always be remembered for his dedication, knowledge, sage advice and as a beloved part of the Mountainfilm family."
---

Katie Lee (October 23, 1919-November 1, 2017)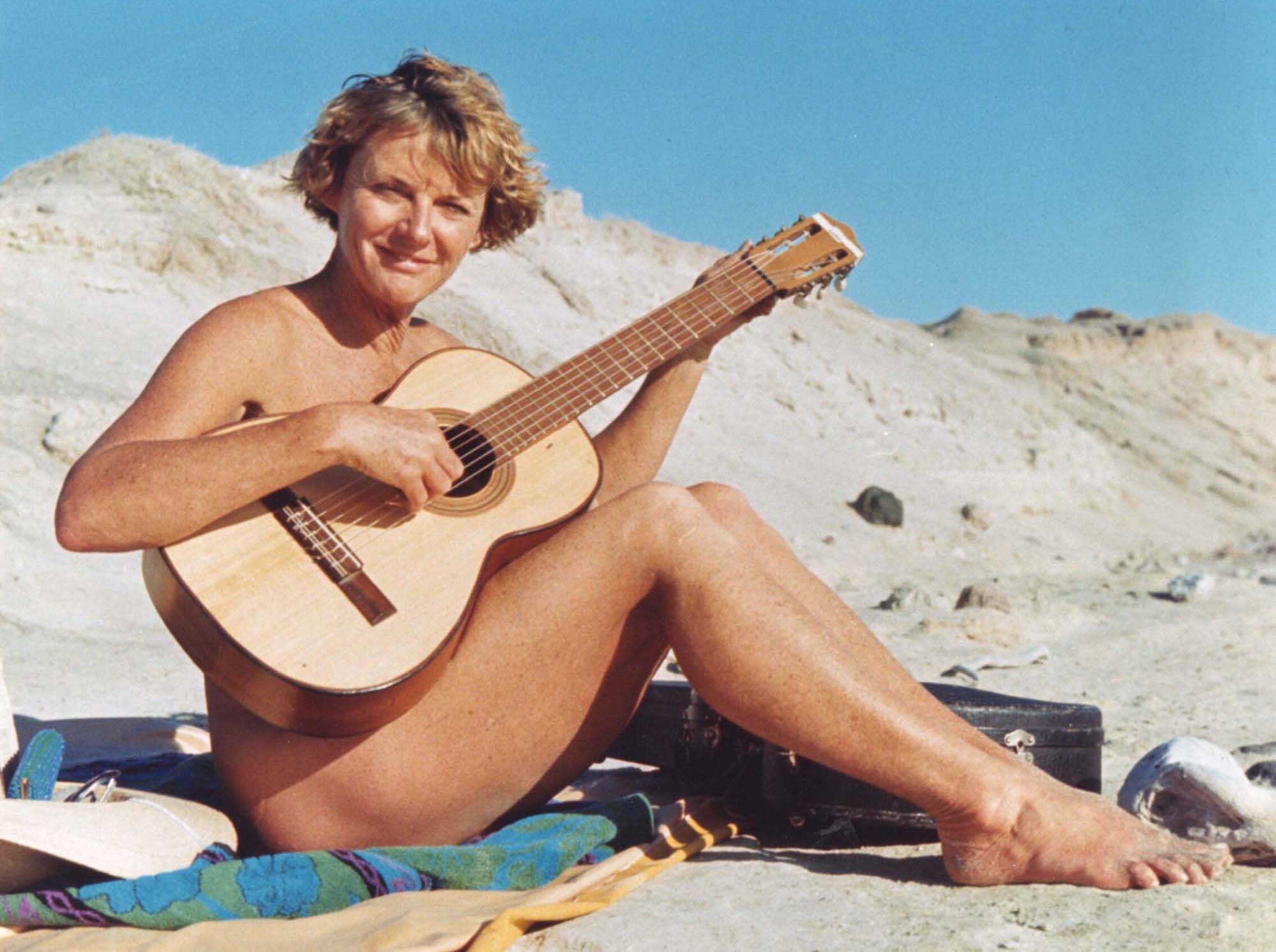 Folk singer Katie Lee was an uninhibited desert activist. (Photo courtesy of Beth Gage)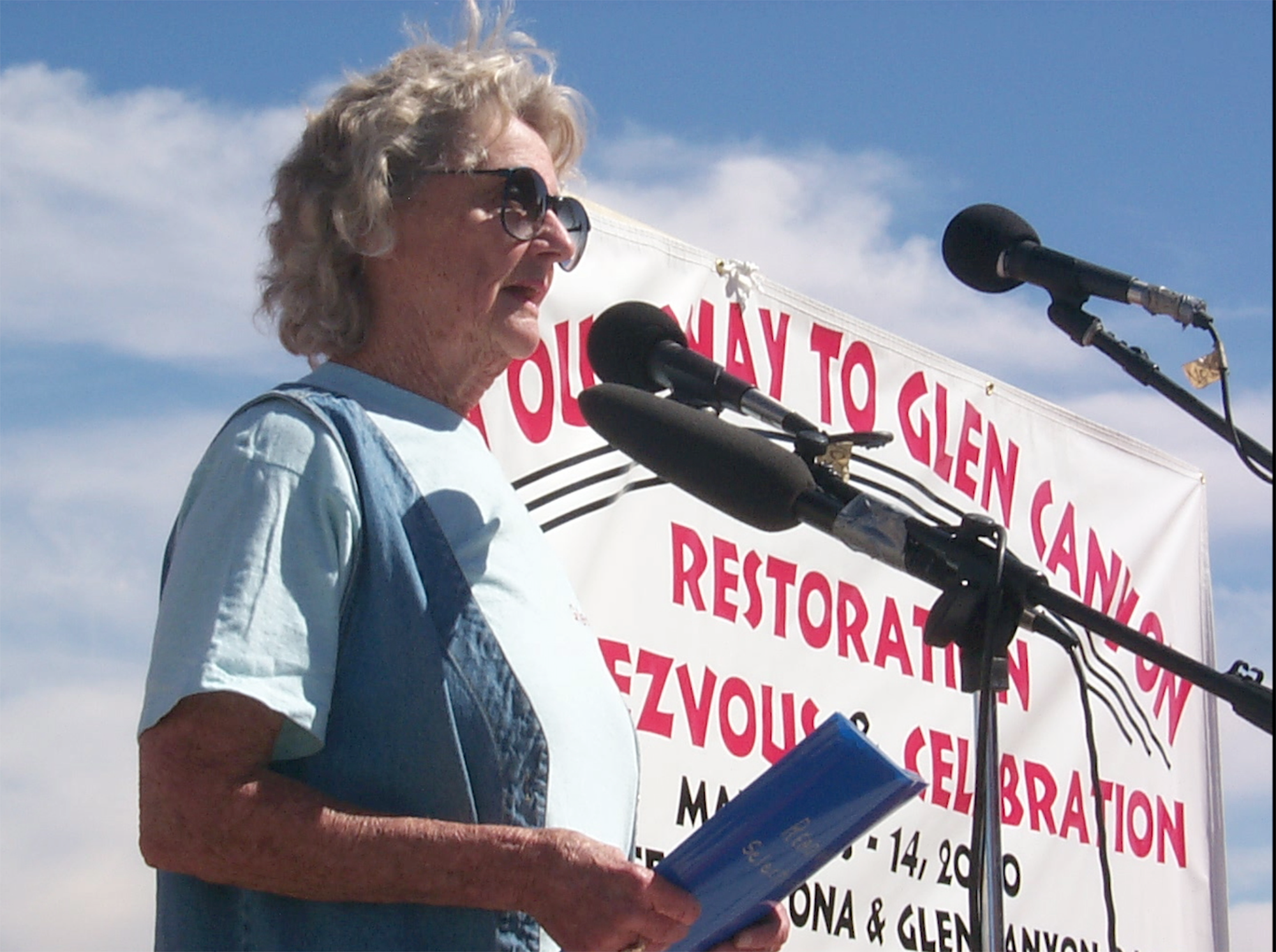 Katie Lee never gave up her fight against the Glen Canyon Dam. (Photo courtesy of Beth Gage)
Lee was a poet, folk singer, rabble rouser, desert activist and iconic figure in modern Western lore, best known for her outspoken and caustic criticism of the Bureau of Reclamation, the Glen Canyon Dam and its reservoir Lake Powell, which she dubbed "Lake Foul."
She grew up in Tucson, Arizona, and went to Hollywood as a young woman to pursue acting. A gig as a singer on a rafting trip in the 1950s introduced her to the Colorado River through the Glen Canyon. She was smitten, became a full-fledged river runner and never recovered from the heartbreak of losing Glen Canyon to the 1963 construction of the Glen Canyon Dam, fighting until the very end to restore the flooded desert Eden. Through protest songs, books and activism, she emerged as one of the most colorful and sharp-tongued advocates for preservation of wild places in the Southwest.
She was a regular guest at Mountainfilm and appeared in such films as DamNation, Troubled Waters and, most recently, the 2016 short by Beth and George Gage Kick-Ass Katie Lee. Over the years, she delighted crowds with her uncensored language, gritty determination and magnetic charm.
"She was so determined on the things she believed in," Beth Gage said. "Katie would say exactly what she thought any time she felt it. She was a determined activist who did not back down. And she was so outrageous. She just was a real true original."






— Katie Klingsporn, Festival Writer