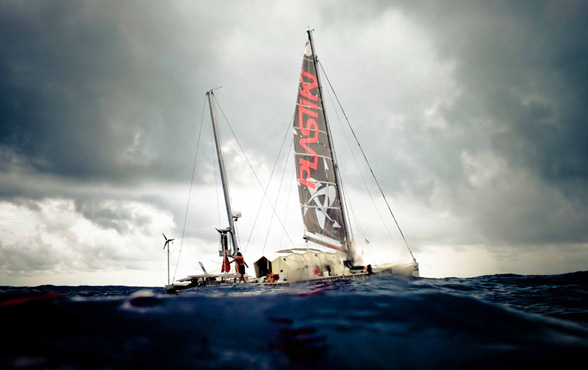 May 1, 2012
Mountainfilm in Telluride Announces World Premieres

2012 Special Guest List Available On-Line

Telluride, Colorado (May 1, 2012) – Mountainfilm in Telluride will hold its 34th annual festival over Memorial Day Weekend, May 25-28, with a program full of inspiring films and special guests. Among the 75 films slated to screen, at least 10 will be world premieres. Special guests are drawn from the leading edges of adventure, art, science, sports and media.

Ken Burns will present his newest work, The Dust Bowl, that examines the decade-long, man-made ecological disaster that began in 1930 and nearly ruined the breadbasket of the nation. House of Cards, the story of Conrad Anker's, Jimmy Chin's and Renan Ozturk's second and successful attempt to summit the Shark's Fin, a granite buttress on the northeast side of 6,310-meter Meru Central in the Gangotri mountains of India will also make its debut screening at the festival. The climb is widely hailed as the most significant of 2011.

Inspired by Thor Heyerdahl's legendary Kon-Tiki expedition across the Pacific Ocean, British environmentalist and adventurer David de Rothschild sailed from San Francisco to Sydney in 2010. He made the 4-month voyage in a vessel similar to Heyerdahl's primitive reed barque except that his vessel was made of 12,500 recycled plastic bottles. de Rothschild's expedition was intended to highlight the problem of waste and, especially, plastic waste in the world's oceans. In the U.S. 12,500 plastic bottles are used roughly every 8 seconds. A special guest presenter at Mountainfilm in Telluride 2011, de Rothschild brings his film Plastiki as a world premiere in 2012.

In December 2008, university student Tim DeChristopher disrupted a federal auction of oil-and-gas leases on public lands by deliberately bidding up and winning leases with no means or intention to pay for them. DeChristopher considered the auction both illegal and immoral and felt it was his obligation in the face of global climate change, precipitated in large part by the burning of fossil fuels, to throw a wrench in the works. Now serving time in a federal penitentiary for his crime, DeChristopher is seen by some as a hero in the mold of Gandhi and Martin Luther King, Jr. and by others as just an irresponsible troublemaker. Veteran filmmakers George and Beth Gage tell DeChristopher's intriguing story in Bidder 70 that will make its official screen debut at Mountainfilm in Telluride 2012.

"We're extremely honored that important filmmakers will be bringing their work to our audiences first," said David Holbrooke, Mountainfilm in Telluride's festival director. "It certainly adds to the excitement and the electricity in the air that so characterizes the festival. Overall, I am really pleased with the breadth and quality of the entire slate of 2012 films. It's a bumper year."

In addition to top independent documentary films and filmmakers, Mountainfilm in Telluride's festival this year will showcase a diverse and galvanizing roster of special guests, including leading names in mountaineering and climbing, photography, exploration, environmentalism and pressing contemporary social and cultural issues. The complete list of scheduled guests is available on the Mountainfilm in Telluride website: http://www.mountainfilm.org/festival/guests.

"Our special guests are what truly distinguish us," said Holbrooke. "They add so much depth and vibrancy to our programming. And although so many of them are real luminaries in their respective fields, they are also, invariably, modest, down-to-earth folks who just naturally connect with our audiences. It's a complete joy for us to be able to welcome them all to Telluride."
About Mountainfilm in Telluride: Established in 1979, Mountainfilm in Telluride is dedicated to educating and inspiring audiences about environments, cultures, issues and adventures. Working at the nexus of filmmaking and action, its flagship program is the legendary Mountainfilm Festival — a one-of-a-kind combination of films, conversations and inspiration. Mountainfilm also reaches audiences year round through its worldwide tour, on Outside Television, with its online Minds of Mountainfilm interviews and in classrooms through its educational outreach initiative, Making Movies That Matter. Mountainfilm has the power to change lives. To learn more, visit www.mountainfilm.org. To join the conversation, please visit the Mountainfilm in Telluride blog, follow us on Twitter and become a fan on Facebook.