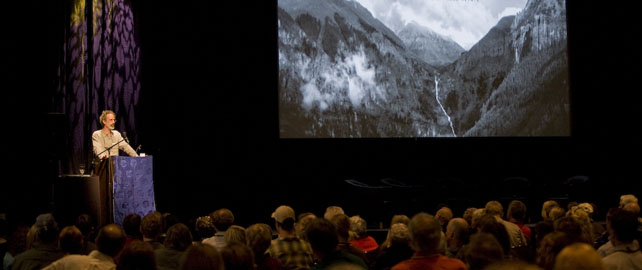 March 27, 2012
Mountainfilm in Telluride Announces Full Roster of Symposium Speakers
Moving Mountains Symposium Theme is Population
Telluride, Colorado (March 27, 2012) –Mountainfilm in Telluride will launch its 34th annual festival on Friday, May 25, with a close look at the complicated subject of population. Over a dozen speakers, each focusing on a different area of expertise, will address the subject during the daylong Moving Mountains Symposium.
"This theme synthesizes many issues Mountainfilm has examined in recent years, such as energy, water, food and extinction," explained David Holbrooke, Mountainfilm in Telluride's festival director. "The population was at 4 billion in 1974, and when that number is compared to estimates of 9 billion, or sometimes even 11, by 2050, it's hard to look at any issue we face — such as food shortages, water depletion, energy consumption or disappearance of wildlife — without factoring in population."
Former NPR reporter Alex Chadwick (the host of Interviews 50 Cents), will emcee the symposium, engaging authorities from diverse disciplines to address the subject matter via presentations, films and multi-guest discussion panels.
Speakers for Moving Mountains 2012
Population is a difficult topic for many but with the onset of the Anthropocene Age — the point at which human activities have made a significant global impact on the Earth's ecosystems — it's a timely one. "It's an enormous subject and, while we'll examine aspects of it in depth, we can't be comprehensive — that would take a month-long symposium," said Holbrooke. "Our intention is to generate conversation, thought and action. It's a launching point for people to get involved, which is, really, the intent of so much of Mountainfilm in Telluride's programming."
Throughout the festival that programming will educate and inspire audiences on subjects that range from outdoor adventure and exploration to critical environmental, cultural and social issues. Documentary films, art exhibitions, guest presentations and discussions round out the festival weekend that takes place in Telluride, Colorado, the weekend of May 25 through May 28.
About Mountainfilm in Telluride: Established in 1979, Mountainfilm in Telluride is dedicated to educating and inspiring audiences about environments, cultures, issues and adventures. Working at the nexus of filmmaking and action, its flagship program is the legendary Mountainfilm Festival — a one-of-a-kind combination of films, conversations and inspiration. Mountainfilm also reaches audiences year round through its worldwide tour, on Outside Television, with its online Minds of Mountainfilm interviews and in classrooms through its educational outreach initiative, Making Movies That Matter. Mountainfilm has the power to change lives. To learn more, visit www.mountainfilm.org. To join the conversation, please visit the Mountainfilm in Telluride blog, follow us on Twitter and become a fan on Facebook.