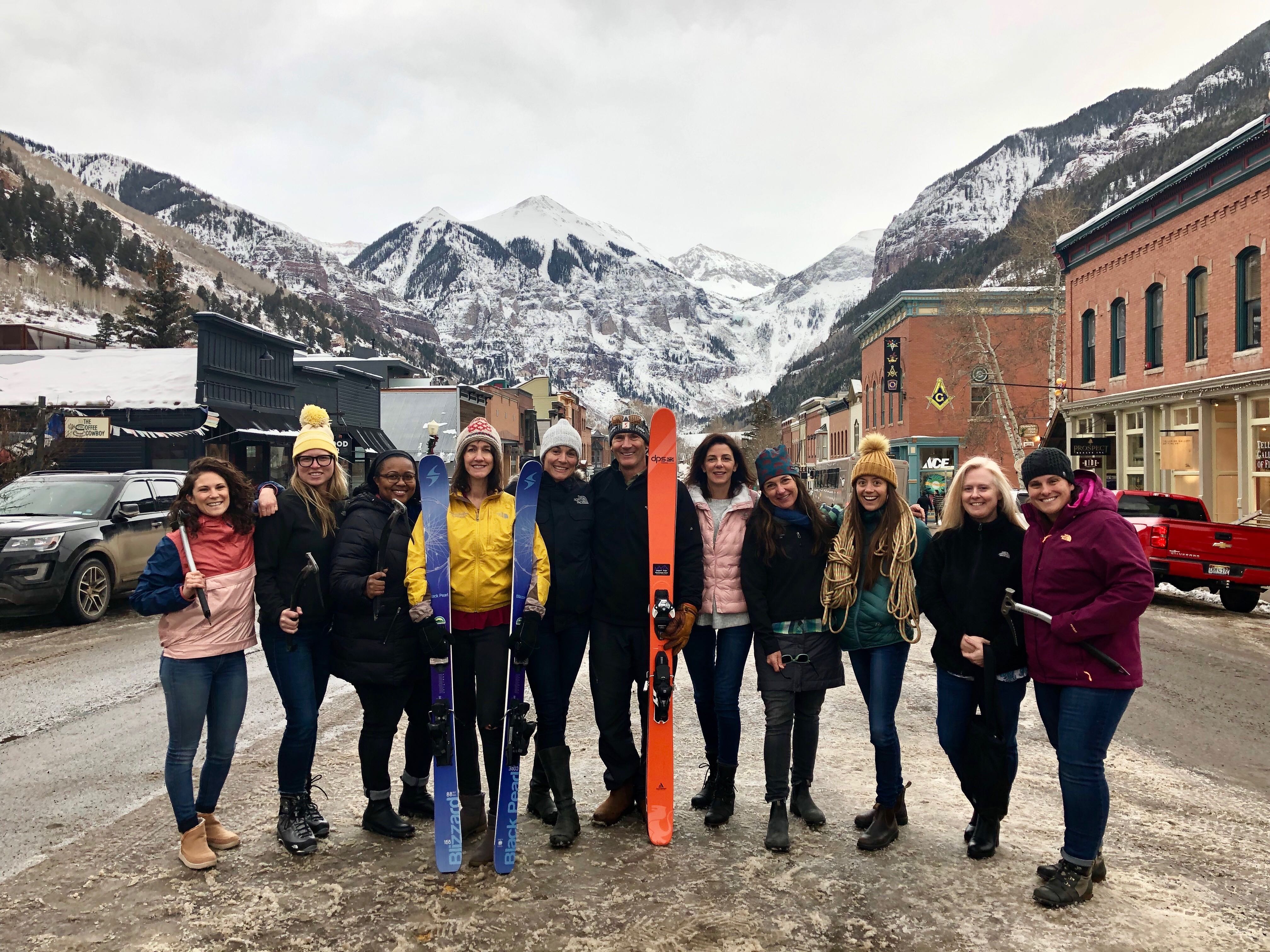 March 4, 2019
Mountainfilm Announces Presenting Sponsor: The North Face
The North Face global athlete team captain Hilaree Nelson will present at festival.
Mountainfilm is thrilled to announce The North Face as its new presenting sponsor.
The pioneering outdoor clothing company is known not only for its innovative gear, but also for its commitment to conservation, storytelling and exploration. This makes it a great match for the festival, says Mountainfilm Executive Director Sage Martin.
"Through adventure films, expeditions and athletes, The North Face and Mountainfilm are undeniably connected by pushing the boundaries of what's possible and by sharing a passion for adventure storytelling," Martin said. "At Mountainfilm we work to inspire audiences to create a better world, and by partnering with The North Face, we see an opportunity to broaden that mission even further. We are honored to be aligned with this force of a company and their indomitable athletes."
The North Face was founded in 1966 in the San Francisco Bay Area, is built on a love of the outdoors and desires to enable exploration for everyone, everywhere. To do that, The North Face understands it requires fostering a truly diverse workforce and harnessing the perspectives of every individual as they create product and cultivate unique brand experiences. This is why, as part of the "Move Mountains" initiative launched in 2017, the brand has committed to equal gender representation in all marketing and content, equal pay for their athlete team and have grown into a household brand known for supporting the vision and adventures of some of the world's greatest skiers, snowboarders, runners, climbers and explorers. Among these athletes are many past and current Mountainfilm subjects and guests, such as Hilaree Nelson, Ingrid Backstrom, Conrad Anker, Margo Hayes, Cedar Wright, Renan Ozturk, Emily Harrington, Jimmy Chin, Alex Honnold and Angel Collinson.
Along with its commitment to serving people who desire to explore, the company has committed from day one to serving natural and wild lands by helping to conserve them. The company believes these two go hand in hand — that exploration creates an indelible bond with the outdoors, and inspires people to protect the land and pass those beliefs to the next generation. Martin notes that Mountainfilm shares those values.
Longtime athlete on The North Face global athlete team and accomplished mountaineer Conrad Anker served as Mountainfilm's guest director for it's 40th-anniversary festival in 2018. The pairing was a huge success and led to the new partnership with The North Face. Anker recently handed the mantle of global team captain to fellow athlete at The North Face and Telluride local, Hilaree Nelson. At the 2019 festival, Nelson — a professional ski mountaineer who has notched some of the sport's most notable achievements — will present on making the first successful ski descent of Lhotse, the fourth-tallest mountain in the world (a feat she pulled off in September 2018 with ski mountaineer partner Jim Morrison).
"I'm humbled and excited to share my story at Mountainfilm," Nelson said. "Not only because it's my hometown crowd, but also because the festival and its guests always leave me feeling incredibly inspired and energized. I'm also excited about this new partnership between Mountainfilm and The North Face, and feel it's a great fit."