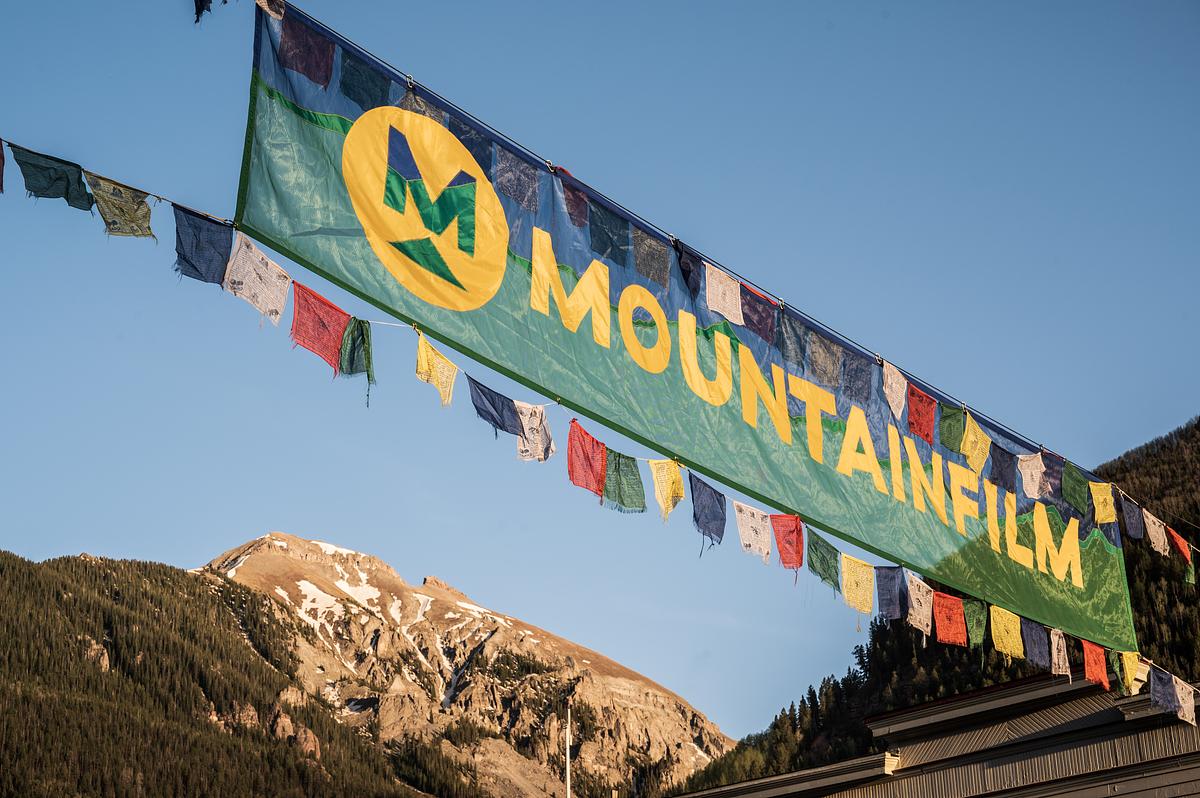 May 10, 2023
MOUNTAINFILM ANNOUNCES FULL LINEUP FOR 2023 FESTIVAL
The festival boasts 105 films, including 70 premieres 
One of North America's oldest film festivals, Mountainfilm (dubbed one of the "coolest" fests in the world) has announced the full lineup for its 45th edition. Taking place this Memorial Day weekend, May 25-29 in the majestic Telluride valley, attendees can look forward to 105 bold and inspiring films, including 22 features and 83 shorts curated into 12 programs, including award-worthy environmental, social justice and adventure-themed films. 
"We're thrilled to be showcasing over 70 world, North American, U.S. and Colorado premieres, including a robust selection of films featuring under-represented voices," says Festival Director Suzan Beraza. "We continue our tradition of highlighting films and subjects that celebrate indomitable spirit."
Of the incredible lineup of films, 17 are world premieres, including feature films Trees, and Other Entanglements, which weaves stories of the interconnected lives of humans and trees through time; Impossible Town, a story of family obligations and environmental injustices in Appalachia; and Patrol, which exposes the dark world of conflict beef and ancestral Indigenous lands in Nicaragua. Mountainfilm is honored to share the world premiere of Earthside, a film that captures one of the last expeditions of Mountainfilm hero Hilaree Nelson as she embarks on an all-women adventure above the Arctic Circle. This film will be screened on Sunday at High Camp as part of a tribute to Nelson and celebration of her life. The Hilaree Nelson Tribute and Saturday night Tribute Dance Party on Main Street are free and open to the public.
Additional world premieres include The Orchestra Chuck Built, a portrait of a tireless mentor transforming Black youth lives through music; Daughter of the Sea, a look at a South Korean all-women fishing community and its life-saving connections; School of Fish, the story of Indigenous people in Bristol Bay, Alaska, and their relationship to the salmon run; Die Laughing, a film about humor and freedom of expression in Cairo, where a punchline can get comedians jailed; and Queens of the Break, a spotlight on the pioneers of women's surfing in Santa Barbara, California. 
Mountainfilm is also excited to screen the world premiere and directorial debut of climber and longtime friend of the festival Timmy O'Neill, Soundscape, which follows blind adventure athlete Erik Weihenmayer as he tackles rock faces in the Sierra Nevada. 
In addition to film programming, Mountainfilm's beloved Coffee Talks will be returning, plus the Minds Moving Mountains Speaker Series and DocTalks. The Speaker Series kicks off Friday morning at High Camp and features climate activist, author and this year's Guest Director Bill McKibben as he talks about activism at a crucial moment in the climate crisis. Other speakers include artificial intelligence creator David Hanson; journalists and photographers covering the Colorado River, Abrahm Lustgarten and Pete McBride; National Geographic Explorer, justice advocate and community organizer Juan D. Martinez Pineda; ecosystem disturbance researcher and film subject Nalini Nadkarni; and a festival wrap-up conversation with 2019 Guest Director Cheryl Strayed and renowned filmmaker Tom Shadyac.
Saturday and Sunday at 8 a.m. at locations throughout Telluride and Mountain Village, attendees can take part in Mountainfilm's free Coffee Talks. These panels are informal discussions with experts and filmmakers highlighting engaging Q&A sessions on topics relevant to this year's festival including freedom of the press, climate food solutions, artificial intelligence and social media, grassroots activism and how to tell stories of hope in times of crisis. 
This year's DocTalks fulfill the festival's mission of bringing filmmaker support to the forefront, with five workshop sessions focused on career development and filmmaker support. Sessions will be hosted by various organizations, including Doc Society, The Redford Center, The New Yorker and The North Face.
"Mountainfilm remains steadfast in its commitment to showcasing some of this past year's finest documentaries in the genres of environment and sustainability, social justice, culture, activism, and, of course, edge-or-your-seat adventure programming," says Senior Programmer Lucy Lerner.
Bolstering the festival's already-stacked program is this year's cash awards. Passholders may cast their votes for their favorite feature films throughout the weekend to award a filmmaker with the $4,000 Audience Choice Feature and $1,000 Audience Choice Short – awarded at the Closing Picnic on Monday afternoon at Town Park. Jury-selected awards include Best Documentary Feature ($5,000), Best Short Film ($1,000), Charlie Fowler Best Adventure Film ($2,500), Moving Mountains ($2,500), Women in Film ($2,500) and the Student Choice Award ($1,000).
Passes for the festival are still available at www.mountainfilm.org. If you are interested in volunteering for this year's festival please contact .
For the full lineup and schedule, visit www.mountainfilm.org or download the festival's app.