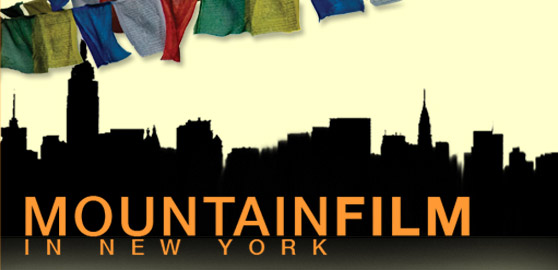 September 28, 2012
Lineup Announced for Mountainfilm in New York
New York, NY (September, 2012) – The Film Society of Lincoln Center announced today the lineup for the 2012 Mountainfilm series, which runs from October 19-21. For the third year, Mountainfilm in Telluride comes to New York, bringing with it the energy of the outdoors and the power of movies that matter, plus live appearances, conversations and special performances. The series kicks off with award-winning Chasing Ice, where photographer James Balog documents the disappearance of glaciers in extraordinary time-lapse images, while battling faulty equipment, a bad knee and existential questions about our own uncertain future. Tickets are now on sale!

David Holbrooke, Festival Director of Mountainfilm in Telluride said, "It's a great honor for us to partner with the Film Society Lincoln Center. Our Mountainfilm World Tour goes all over the world to 130 locations such as Brazil, Norway, and China but no venue is as prestigious as Lincoln Center and we are excited to present a weekend of stellar programming at their outstanding theater."

Started in 1979 by rock climbers who wanted to watch documentaries about their chosen sport, Mountainfilm in Telluride has evolved into a forum for documentaries of all stripes: dazzling adventure films, compelling environmental films, and a wide range of documentaries that examine current cultural as well as political issues as well as individuals who inspire us with their work and their lives.

"We're thrilled to welcome Mountainfilm back to the Film Society," said Associate Director of Programming, Special Programs and Industry, Marian Masone. "The documentaries on offer cover a wide variety of themes, but central to all are what people have done, or can do to make a difference in their lives and in the lives of others."

This year's lineup includes a shorts program paired with a live talk from Jon Turk, who will discuss his adventures when he joined pro-kayaker Erik Boomer for the first kayak circumnavigation of Ellesmere Island; Living Downstream, a powerful film about Sandra Steingraber, a cancer survivor who asks the question: How much proof is necessary to treat industrial contamination of air, soil and streams as human rights issues? Steingraber will be in attendance.

Mountainfilm will also include True Delta, a screening and live musical performance from the band! The film focuses on the Mississippi blues as directors Lee Quinby and Daniel Cowen interview historians who explain the culture that has created this essential American music, and showcase musicians who attest to the importance of the blues remaining culturally relevant.

Create your own double feature package & save! Two films: $15 Members/Students/Seniors, $20 General Public. Single tickets: $8 Members/$9 Students & Seniors/$13 General Public. Go to Filmlinc.com to purchase.
FOR COMPLETE SCHEDULE AND TO PURCHASE TICKETS, GO TO: http://www.filmlinc.com/films/series/mountainfilm-2012.