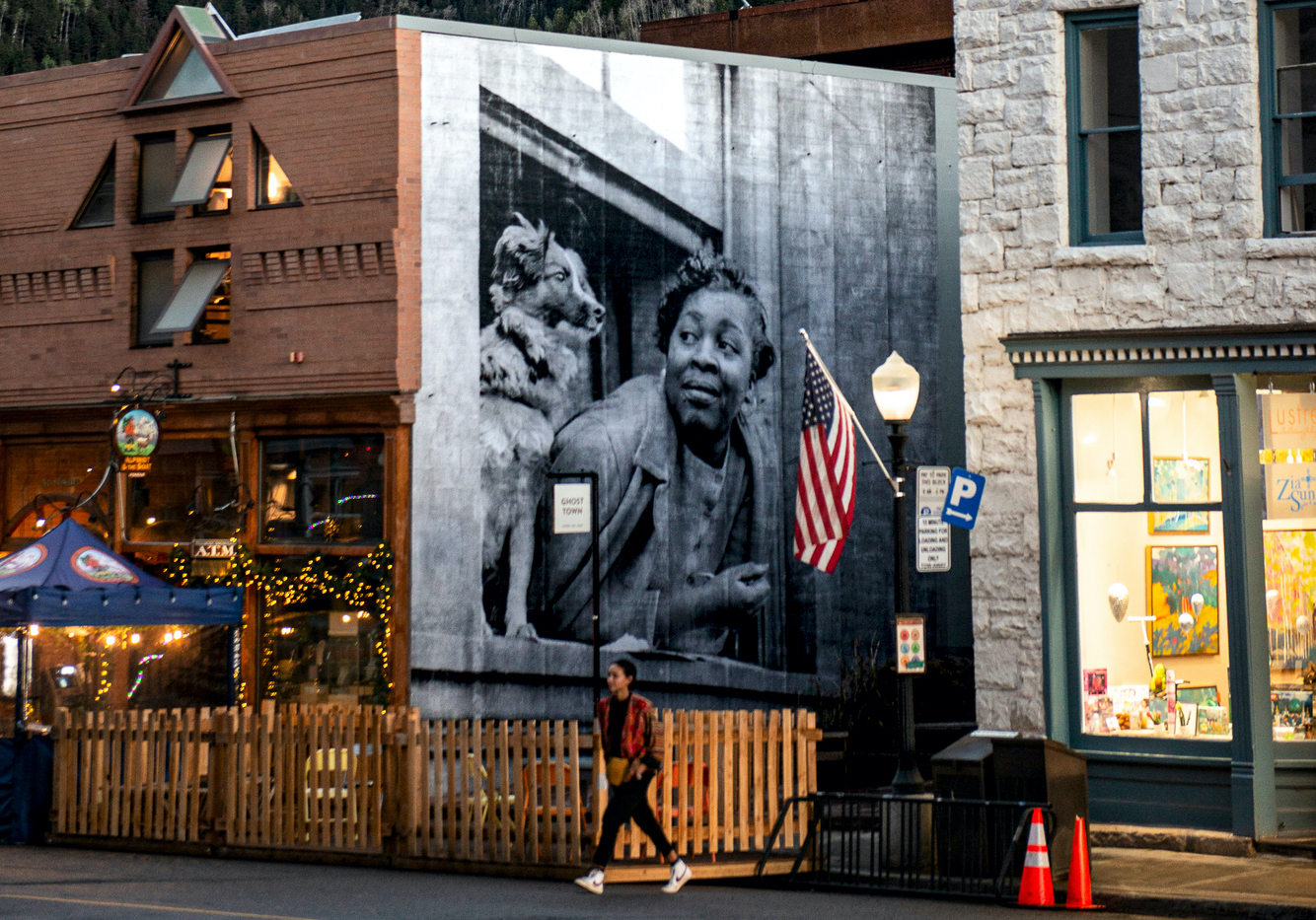 May 28, 2021
French Artist Installs a Gordon Parks Image on Telluride's Main Street
Mountainfilm gallery and mural manager Drew Ludwig offers a free, behind-the-scenes rundown on Friday, May 28
If you're already in Telluride, you might've noticed a new mural gracing the west-facing wall on the Ghost Town patio. And if not, the image of a woman peering out her window toward Main Street will certainly catch your eye as you drive into town.
The new mural, which Mountainfilm gallery and mural manager Drew Ludwig facilitated, is the work of French artist JR, who mixes the mediums of photography and street art. His Mountainfilm mural is no exception. The artwork is a recreation of a 1943 photograph taken by photojournalist Gordon Parks, a renowned Black photographer, musician, artist and director. The image shows an African American woman leaning out of her window and looking down at the street (in this case, Telluride's Main Street) alongside a small collie dog.
"What we know about the image was that it was made in Harlem in May 1943 while Parks was working for the Office of War Information. At the time, he was in New York to photograph Duke Ellington and his orchestra at the Hurricane Ballroom in New York City and Richard Wright at his home in Brooklyn Heights," said Marc Azoulay by email, one of the team members who helped install the mural in Telluride.
The black-and-white image also might make you rethink the definition of a mural. Instead of packing along paint and ladders, JR's team had the image printed on thin paper and pasted it onto the wall in large strips.
The mural will remain on display for at least a year, but will have it's unofficial debut on Friday, May 28. To kick off Mountainfilm in Telluride, Ludwig will offer up a free, behind-the-scenes exploration of the artwork at Ghost Town from 5:30 to 6:30 p.m.