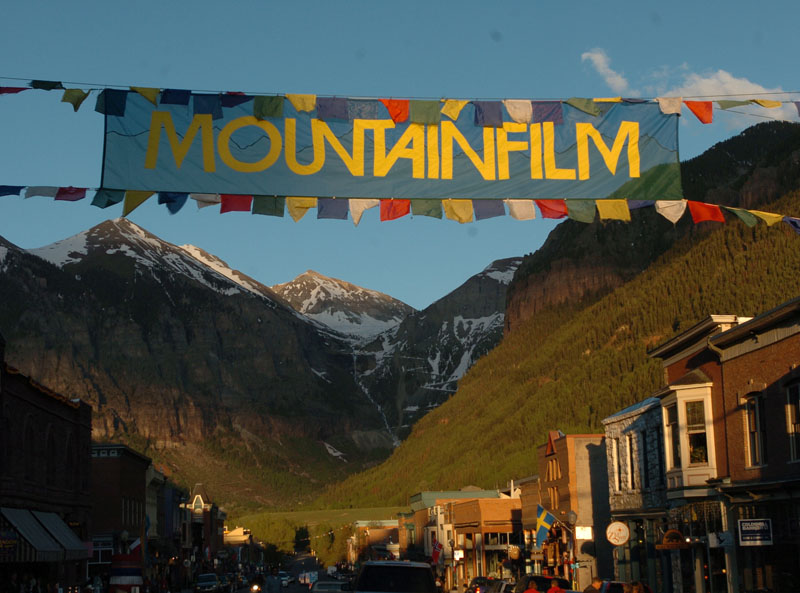 May 17, 2012
For Locals By Locals at Mountainfilm
World Premieres, Free Shows, Art and Workshops
Telluride, Colorado (May 15, 2012) – Audiences from around the world come to Mountainfilm, but it's still a homegrown event that inspires the Telluride community. As evidenced by the number of local premieres each year, regional filmmakers look forward to screening at Mountainfilm, and the festival, in turn, supports a few special events and programs that are geared toward locals. This year's Telluride focus includes film premieres, free films in Town Park, an artist in residence, awards from Bone Construction and an educational workshop for teachers.
One of the biggest world premieres at the festival this year, Bidder 70, was directed and produced by local filmmakers Beth and George Gage. This documentary highlights Tim DeChristopher, the controversial activist who is serving a two-year federal prison sentence for monkey wrenching an auction of oil and gas leases in Utah. Another slated premiere is Lady B's First Winter, a film by Scott Ransom that follows Gary Richard's avalanche dog from puppy to professional in the Telluride Ski Patrol. Also on the premiere list is Load Bearing, which highlights the Telluride Adaptive Sports Program and features James and Summer Colt, along with Drew Ludwig.
Another home highlight will be a short ski haiku filmed in Japan called Unicorn Sashimi that was directed by Ben Knight of Felt Soul Media. Two more local films will be screened unannounced: The Local's Bite, a short horror film by Scott Upshur, and Into Thick Air, an adventure in which local Rob Story, his twin brother and a few friends summit the seven highest peaks — in the Midwest. Mountainfilm will also screen two trailers by locals who received Mountainfilm Commitment Grants: Uranium Drive In (from the makers of Bag It: Suzan Beraza and her team at Reel Thing Productions) and DamNation (from Felt Soul Media's Ben Knight and Travis Rummel).
The Base Camp Outdoor Theatre in Telluride Town Park will return for its second year with an expanded schedule that stretches from Wednesday, May 23, through Monday, May 28. Join your neighbors for the free shows that begin at 9 p.m., rain or moonshine. Sponsored by Horny Toad, this venue was wildly successful last year with what is thought to be the largest-ever Telluride film audience.
As always, Mountainfilm offers free Coffee Talks, Saturday-Monday at 8 a.m. There are more venues this year because these informal, intimate gatherings are so popular. Bring your own cup and look for a detailed schedule of discussion topics and guests online.
Constantly evolving, Mountainfilm also introduces a few new twists this year. In collaboration with Telluride Arts, the festival welcomes its first artist in residence, BK Adams • I Am Art from Washington D.C. He has set up shop in the Stronghouse Studios, where he welcomes visitors while working on his paintings and sculptures that incorporate found objects. His work, along with many others, will be exhibited during the free Gallery Walk on Friday, May 25, from 3:30 to 6:30 p.m.
Also new this year, Mountainfilm has swapped its traditional student program for a teachers program. Assisted by University Centers of San Miguel, this workshop is part of Mountainfilm's expanding education initiative, Making Movies that Matter, and will center on hands-on editing projects from content-rich films in the Mountainfilm archives. Educators get a festival pass and training, as well as a continuing education credit.
"Mountainfilm is strongly rooted in its hometown. Without this creative and supportive community, our festival would be significantly diminished. One of the best things about Mountainfilm is how much it inspires local talent, and it is important to us that we continue to do that," said festival director David Holbrooke.
Local talents are responsible for this year's Mountainfilm awards. Kathy Green and Aaron Smith, who work together at Bone Construction, designed and built the awards using found and recycled metals. Green has never missed a Mountainfilm festival, coming to the first one in 1979 with her husband Chuck Kroger.
Holbrooke points out that this year's festival will continue in the same direction as always, "The guests, films and discussion topics cover a broad range of interests and we hope everyone in Telluride finds something at Mountainfilm that moves them." For more information on the good things to come and a detailed schedule, check out www.mountainfilm.org/festival.
About Mountainfilm in Telluride: Established in 1979, Mountainfilm in Telluride is dedicated to educating and inspiring audiences about environments, cultures, issues and adventures. Working at the nexus of filmmaking and action, its flagship program is the legendary Mountainfilm Festival — a one-of-a-kind combination of films, conversations and inspiration. Mountainfilm also reaches audiences year round through its worldwide tour, on Outside Television, with its online Minds of Mountainfilm interviews and in classrooms through its educational outreach initiative, Making Movies That Matter. Mountainfilm has the power to change lives. To learn more, visit www.mountainfilm.org. To join the conversation, please visit the Mountainfilm in Telluride blog, follow us on Twitter and become a fan on Facebook.