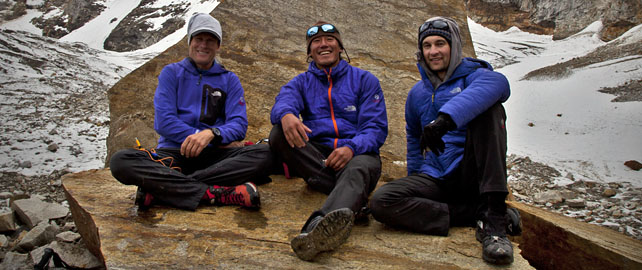 March 13, 2012
Film about the Top Ascent of 2011 to Premiere at Mountainfilm in Telluride
Conrad Anker, Jimmy Chin and Renan Ozturk Bring House of Cards to Festival
Telluride, Colorado (March 13, 2012) –On October 2, 2011, world-renowned climbers Conrad Anker, Jimmy Chin and Renan Ozturk summited the Shark's Fin, a granite buttress on the northeast side of 6,310-meter Meru Central in the Gangotri mountains of India. Their feat was ranked first in a list of "Top 10 Ascents of 2011" in Rock and Ice and is now the subject of a documentary called House of Cards, which will premiere at Mountainfilm in Telluride's annual festival May 25-28.
Ozturk and Chin will tell the tale of how the trio succeeded on a route that had eluded dozens of teams for decades. The list of those denied include Doug Chabot, Paul Pritchard, Bruce Miller, Pete Takeda, Jules Catwright and Mugs Stump, who was a hero of Anker's.
The summit was the third attempt for Anker and ended a 20-year obsession with the peak. It was the second try for both Chin and Ozturk who joined Anker in 2008 but stopped short 150 meters shy of the summit. That effort was chronicled in Samsara, a film by Ozturk that played at Mountainfilm in Telluride in 2009 and won the festival's Charlie Fowler Award. "Samsara helped redefine adventure films," said David Holbrooke, Mountainfilm in Telluride's festival director, "and we are all excited to see what Renan and Jimmy do with this story."
The team's 2011 success overcame physical challenges for Ozturk, who had tumbled over a cliff while skiing and filming in Jackson Hole six months earlier, sustaining injuries that included a fractured skull. "Even though I have only seen clips of the film, I know from talking to the three of them that Renan's story — coming off the injury and being the most vulnerable — is central to the story" said Holbrooke. Chin and Ozturk will attend the festival, but Anker is scheduled to climb Mount Everest with Cory Richards (who is featured in the film Cold).
Mountainfilm in Telluride has a celebrated history in mountaineering since its inception in 1979. Some of the world's top alpinists, such as Sir Edmund Hilary, Royal Robbins, Yvon Chouinard, David Breashears, Lynn Hill, and Alex Honnold have attended the festival. "Between House of Cards, Chris Sharma speaking and the many other all-star climbers who will attend this year, the 2012 festival has a particularly strong climbing component," said Holbrooke. "Of course, our array of environmental and cultural films is also outstanding this year, and we are excited to announce those soon, so as always, there's an eclectic mix at the festival — something for everyone."
About Mountainfilm in Telluride: Established in 1979, Mountainfilm in Telluride is dedicated to educating and inspiring audiences about environments, cultures, issues and adventures. Working at the nexus of filmmaking and action, its flagship program is the legendary Mountainfilm Festival — a one-of-a-kind combination of films, conversations and inspiration. Mountainfilm also reaches audiences year round through its worldwide tour, on Outside Television, with its online Minds of Mountainfilm interviews and in classrooms through its educational outreach initiative, Making Movies That Matter. Mountainfilm has the power to change lives. To learn more, visit www.mountainfilm.org. To join the conversation, please visit the Mountainfilm in Telluride blog, follow us on Twitter and become a fan on Facebook.