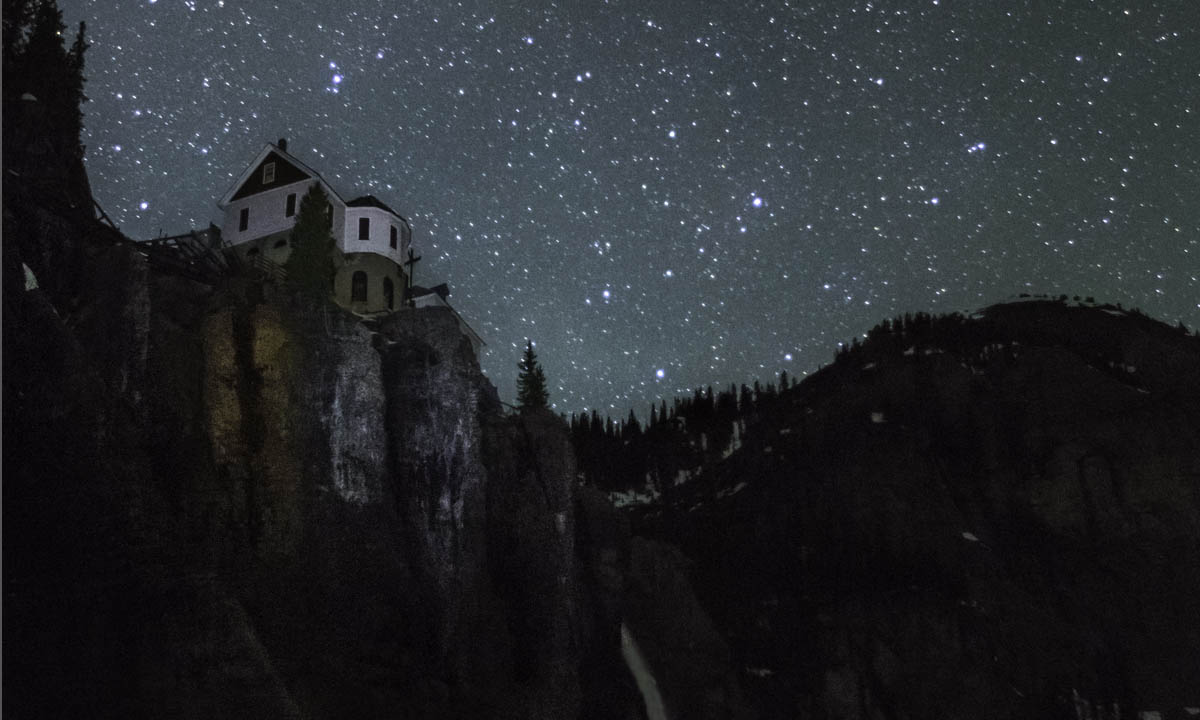 April 9, 2015
Dynamic Lineup of Artists for Mountainfilm 2015
Photographers, painters, mapmakers and more coming to Memorial Day weekend festival
Telluride, Colorado (April 9, 2015) – A Pulitzer Prize-winning photographer, National Geographic Emerging Explorer and an amputee painter from Rwanda — these are among the dynamic and diverse lineup of artists who will be featured at the 2015 Telluride Mountainfilm festival. Mountainfilm will showcase these artists during its annual Gallery Walk, which will take place on Friday, May 22, from 3:30 to 6:30 p.m. in venues and galleries around downtown Telluride. Gallery Walk has long been a part of the four-day event's opening festivities.
This year's roster includes National Geographic photographer Carsten Peter, climber and illustrator Jeremy Collins, Afghan photographer Farzana Wahidy, and Democratic Republic of Congo-based historian and artist Monique Stauder, among many others. Mountainfilm 2015 will host two artists-in-residence: night sky photographer Ben Canales and wilderness painter Emilie Lee. The festival will also include two Telluride artists: mapmaker Clay Wadman and painter Ally Crilly.
"It's been great fun to put together this eclectic lineup of artists this year, and I'm particularly excited about our Afghan artists, some of whom are traveling from Afghanistan for the festival," said Mountainfilm Festival Director David Holbrooke. "I also think our artist-in-residence program is really strong."
Many of the artists are associated with films or presentations, and there will be a special exhibit in honor of Mountainfilm's 2015 symposium theme: Afghanistan.
Following is a rundown of the 2015 artists. (Certain artists will exhibit at the Telluride Conference Center, which is not part of the Gallery Walk.)
• Basir Beria: Afghan-born Basir Beria, a specialist in fighter kites, built the kites for the film The Kite Runner. In addition to an exhibition of his work, he will lead a kite-building workshop and flying demonstration.
• Ben Canales: Filmmaker and photographer Ben Canales specializes in capturing the magic of a brilliant night sky using time-lapse and low-light methods.
• Scott Cohen: A former Telluride resident and current New York City-based artist, Scott Cohen has a passion for the interplay between design, technology and innovation. His large-scale photographs use pigment and platinum to create lustrous images of the world.
• Jeremy Collins: Storyteller, artist, filmmaker, activist and climber Jeremy Collins' illustrative work has been featured in more than 150 climbing magazines and numerous books.
• Ally Crilly: Telluride-based painter Ally Crilly's colorful images of elephants, buddhas and other compelling subjects have long graced galleries across town.
• Glen Denny: The iconic images of Glen Denny chronicle the rich history of climbing in Yosemite during the 1960s.
• Massoud Hossaini: Afghan photographer Massoud Hossaini's stunning and disturbing photograph "Girl in the Green Dress" won the Pulitzer Prize for Breaking News Photography in 2012.
• Asher Jay: National Geographic Emerging Explorer Asher Jay merges design, words and sculpture to create cause-driven art.
• Emilie Lee: New York City-based Emilie Lee paints images of wild lands and fierce individuals from memory and imagination.
• Ben Masters: Texas native Ben Masters is a pack guide, wildlife biologist, dedicated conservationist and accomplished photographer.
• National Geographic Young Explorers: Included in the Gallery walk will be a collection of work from National Geographic Young Explorers Cara Eckholm, Julia Harte, Hanna Reyes and Eddie Roqueta.
• Frederick Ndabaramiye: After losing both of his hands during the genocide in Rwanda, Frederick Ndabaramive regained his motor skills through painting and has since created colorful and poignant portraits of his country.
• Robert Nickelsberg: Working for 25 years as a staff photographer for TIME, Robert Nickelsberg has covered conflicts across the globe, but Afghanistan has always drawn him closer.
• Carsten Peter: National Geographic photographer, biologist and adventurer Carsten Peter specializes in going to extremes. He has scuba dived in a glacier on Mont Blanc, crossed the Sahara on a camel and gone caving in Borneo.
• James Robertson: Professional photographer James Robertson is based in Edinburgh, Scotland, and has produced a dynamic body of work across many sporting disciplines — from road cycling to rowing.
• Monique Stauder: Swiss-American photojournalist Monique Stauder has traversed the world for Time, Newsweek, GEO, The New York Times and The Christian Science Monitor.
• Farzana Wahidy: Pioneering Afghan photojournalist Farzana Wahidy's work is striking because of its intimacy with its subjects, who are often women.
• Clay Wadman: Climber, architect and artist Clay Wadman is a longtime Telluride local whose intricate maps of Yosemite have been used by countless climbers and featured in National Geographic and other publications.