Oprah, Equity and Mind-Blowing Movies
17 Blocks takes home Mountainfilm's Audience Choice, Best Feature awards
Winter halted its snowy assault just in time for the festival. The sun came out. And what followed was four days filled with mind-blowing films, life-changing conversations, surprise musical performances, standing ovations and an appearance by media powerhouse Oprah Winfrey.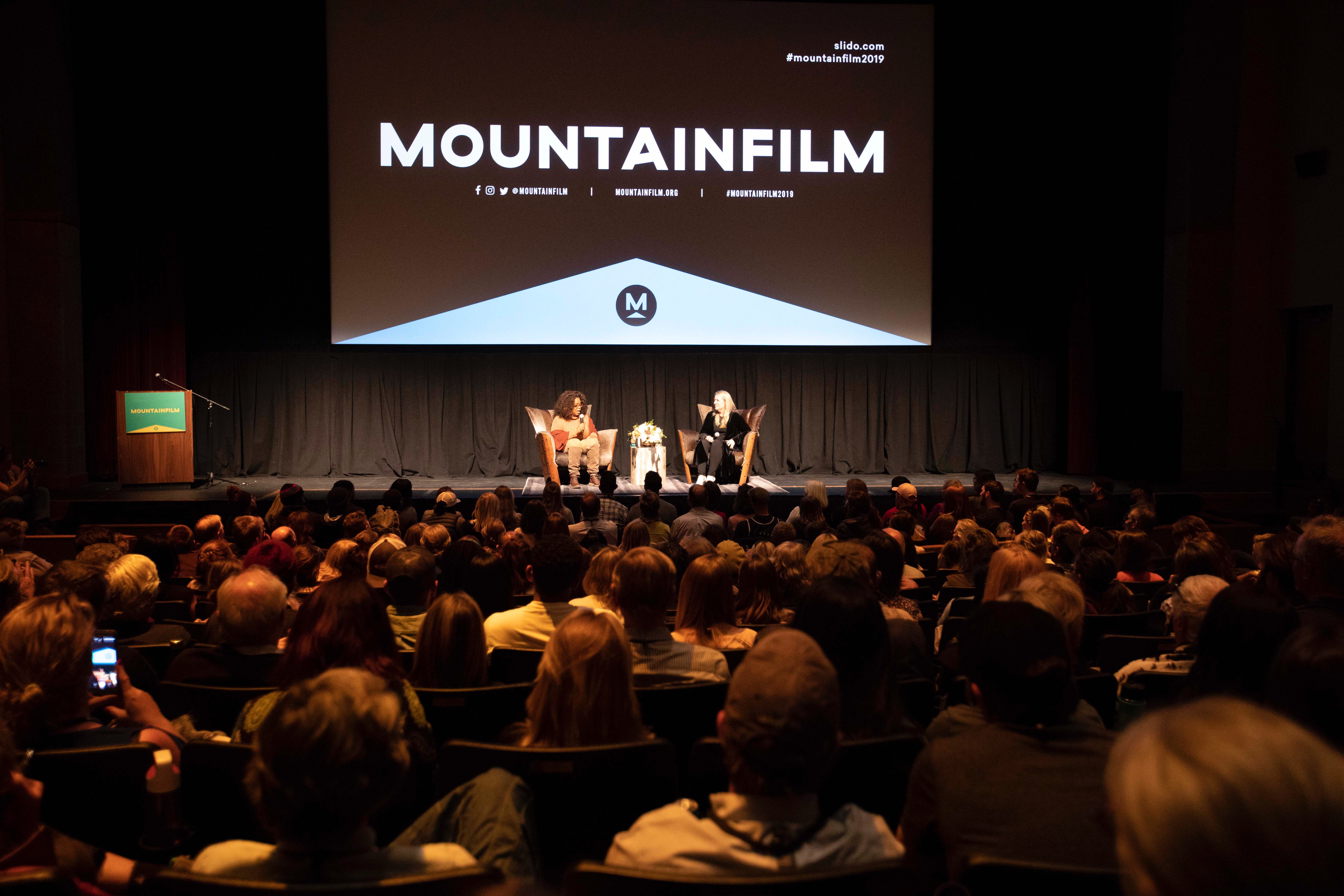 Oprah Winfrey joined Strayed for a special conversation at the Palm Theater Saturday night. [Aurélie Slegers photo courtesy of Mountainfilm]
Mountainfilm wrapped up its 41st annual festival Monday with the Closing Picnic and Awards Ceremony in Town Park. Just as in 2018, the film that swept both the Best Feature and Audience Choice Award was a low-profile documentary about urban life — a film that didn't play in large theaters, but gutted those who saw it nonetheless.
17 Blocks tells the astonishing, truth-is-stranger-than-fiction story of the Sanford-Durants, a family that lives a mere 17 blocks from the nation's capital in Washington, D.C — though they might as well be a world away. The masterpiece of verité filmmaking follows four generations of the family as hope keeps them raised up through struggles of addiction, gang violence and devastating tragedy.
Director Davy Rothbart said he was deeply honored by the reception his film received. 
"To know that audiences are connecting so deeply with the Sanford family's story is enormously meaningful," he said. "We love Mountainfilm and we're incredibly grateful for the chance to share our film, for the awards and for the embrace of the Mountainfilm community. We look forward to continuing to share this story and working together to create meaningful change."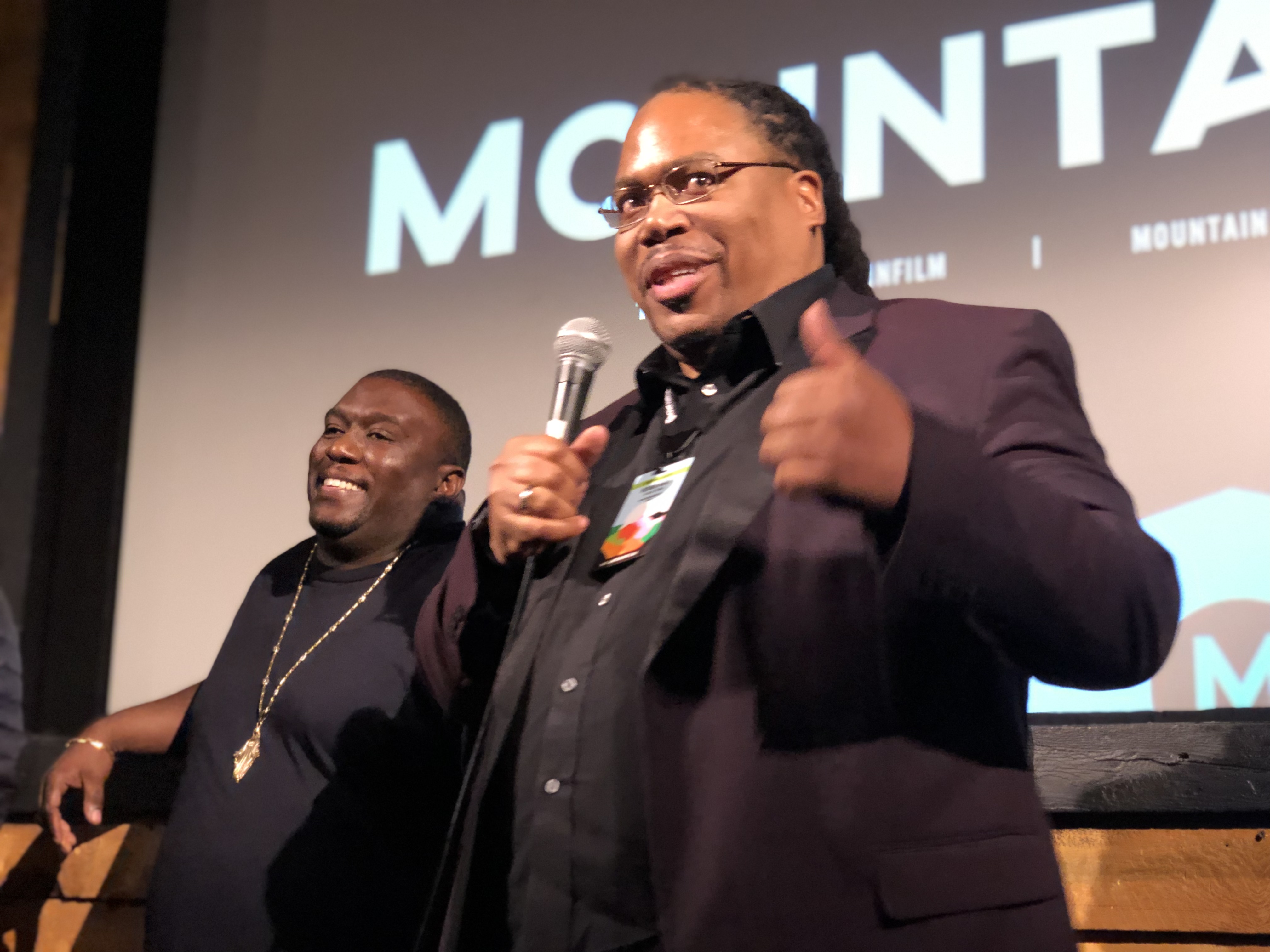 From left, William Smith and Richard White, subjects of the film R.A.W. Tuba, answer audience questions at the Nugget Theatre following a live musical performance. [Photo courtesy of Mountainfilm]
The picnic capped off a festival marked by a strong roster of films and temperatures almost cool enough to justify spending all weekend inside theaters watching them. Festival goers were delighted by film subjects like William Smith and Richard White, musical brothers who gave impromptu rap/tuba performances; Winfred Rembert, a survivor of a lynching attempt who has emerged as a prominent visual artist; and Mack Beggs, Sarah Rose Huckman and Andraya Yearwood, transgender teen athletes whose compelling stories were the subject of Changing the Game. Audiences were moved by symposium speakers discussing equity and lined up to see talks by the likes of British climbing legend Sir Chris Bonington. And no presentation was more buzzed about than Saturday night's conversation between author and Mountainfilm Guest Director Cheryl Strayed and Oprah Winfrey, where the women talked about the power of storytelling.
That power was on display in theaters all weekend, and at the Closing Picnic, it was clear it had left an imprint.
The Moving Mountains Award — which is given to a nonprofit featured in a film — was awarded to the Ol Pejeta Conservancy. The wildlife refuge in Kenya is featured in Kifaru, which tells the story of rangers caring for the last northern white rhinos in the world. The Student Award went to Youth Unstoppable, a film that tells the story of the youth climate movement through the eyes of a young filmmaker.
Filmmaker and festival judge Cristina Costantini said she and her fellow judges were arrested by how much people have given of themselves on both sides of the lens to create this art.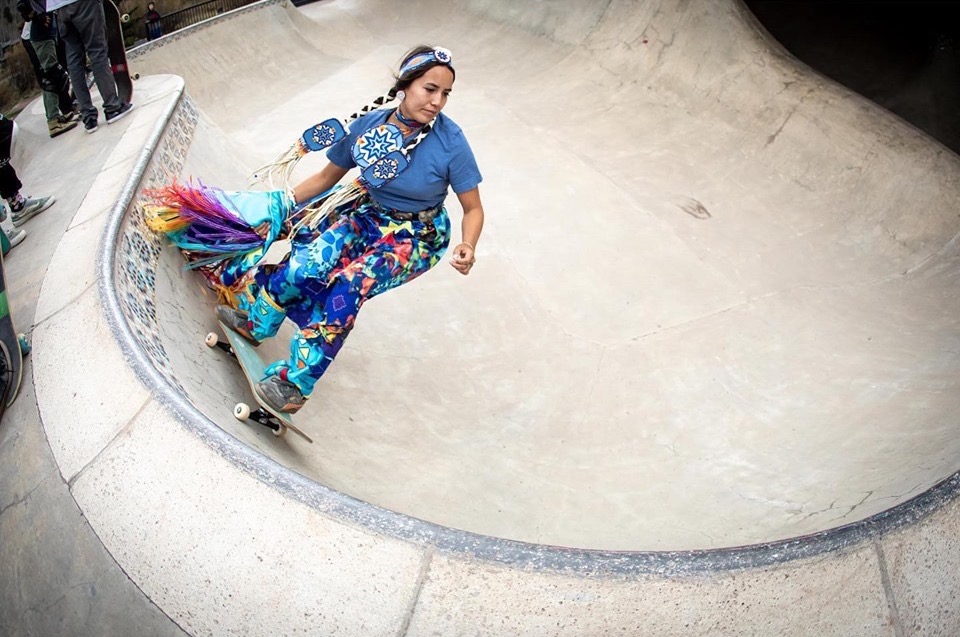 Di'orr Greenwood, a subject of the film "The Mystery of Now," skates in Town Park. [Ben Eng photo courtesy of Mountainfilm]
"Given this year's theme of equity, we were heartened that many of the films dealt with issues of diversity, race, gender and representation," Constantini added. "Building empathy across worlds and among different groups of people is in my opinion the most important thing we can do with films. Many of the movies we watched here this year have done that, and for that reason have had and will continue to have a great impact on our world."
And Strayed left the crowd with some wise words to take home.
"I know that every year at Mountainfilm what I gather is truth, beauty, light, that sense of fullness when I leave," Strayed told the audience. "And we get to choose to have that with us every day. Every day when we wake up: wonder and joy, wonder and joy. And I hope that you all will carry that piece of Mountainfilm until we meet again next year."
Click here to see the full list of award winners.