Mountainfilm Announces 2019 Guest Director
Cheryl Strayed named guest director for 2019 festival
"I'm honored, thrilled, and excited to be part of this festival that has become so important to me."
Mountainfilm is thrilled to announce longtime festival attendee Cheryl Strayed as the guest director for 2019. Cheryl has been a part of the Mountainfilm family since 2014 when she came as a Moving Mountains Symposium presenter. In the interim years, she has returned as a theater presenter, host, judge and author. Strayed says she "was so impressed by the festival, I've come back every year since then. I attend with my family—my husband, Brian Lindstrom, whose film Mothering Inside was at the festival in 2016, and our two children Carver and Bobbi, along with their friend Violet. All of us leave Mountainfilm every year feeling expanded, altered, and inspired. It's our favorite family tradition." Mountainfilm couldn't be more elated to have her participating in this very special role.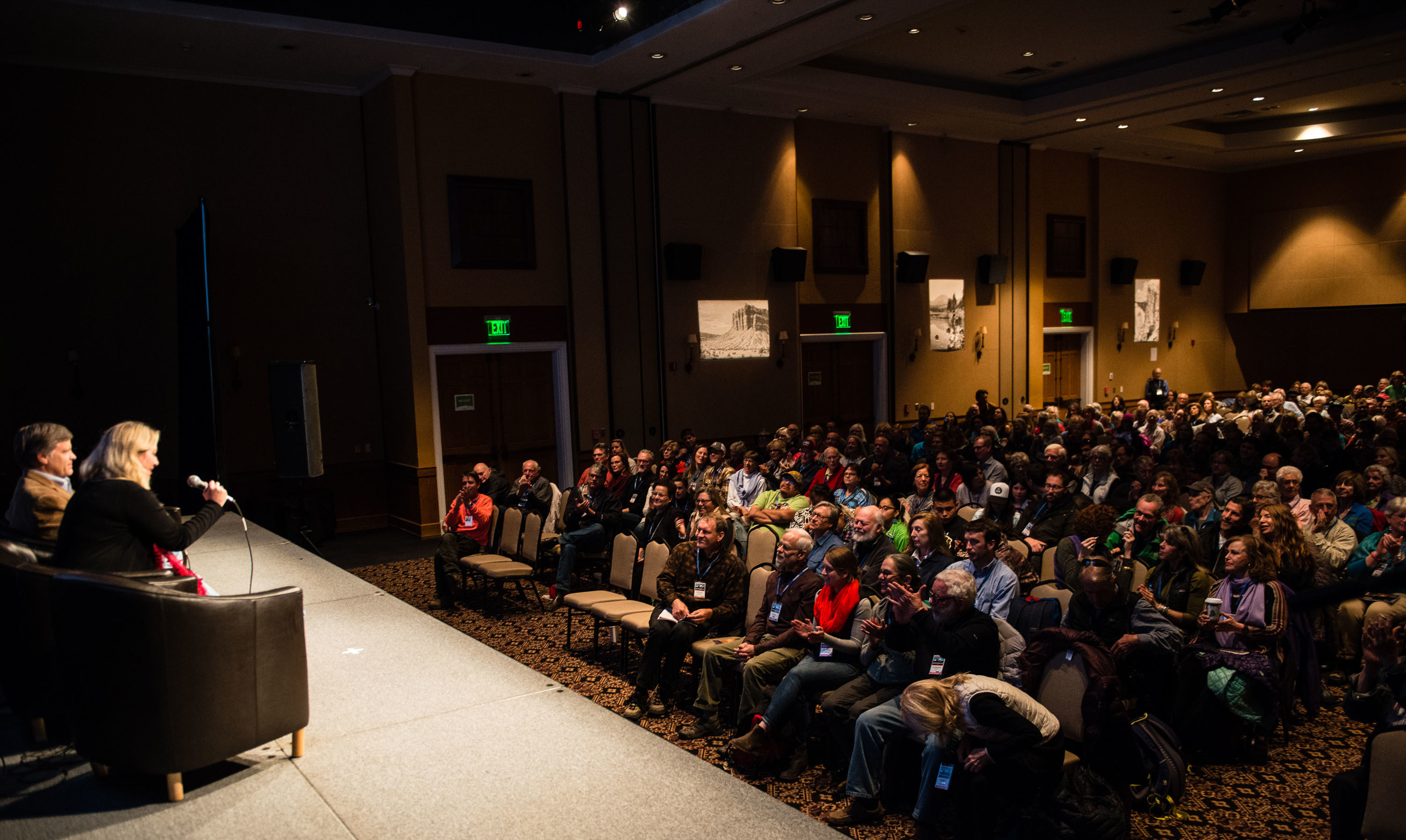 Strayed speaking at 2016 Moving Mountains Symposium. Photo: Melissa Plantz
Cheryl Strayed was catapulted to fame with her visceral 2012 memoir Wild, a memoir of her life-changing hike on the Pacific Crest Trail, which spent seven weeks in the number one spot on the New York Times bestseller list and was made into an Oscar-nominated film starring Reese Witherspoon and Laura Dern. She is also the author of the bestsellers Tiny Beautiful Things, Brave Enough and the novel Torch. Her books have been translated into nearly 40 languages around the world and been adapted for both the stage and screen. Strayed's essays have been published in The Best American Essays, The New York Times, The Washington Post Magazine, Vogue, Salon, The Sun, Tin House and elsewhere. Strayed was the co-host, along with Steve Almond, of the New York Times/WBUR podcast Dear Sugars, which originated with her popular "Dear Sugar" advice column on The Rumpus.
When reached this week on the road where she is on the Hello Sunshine x Together Live Tour, Strayed said that Mountainfilm holds a special place for her and she is excited to play a larger role in 2019. "I'm honored, thrilled, and excited to be part of this festival that has become so important to me," Strayed said.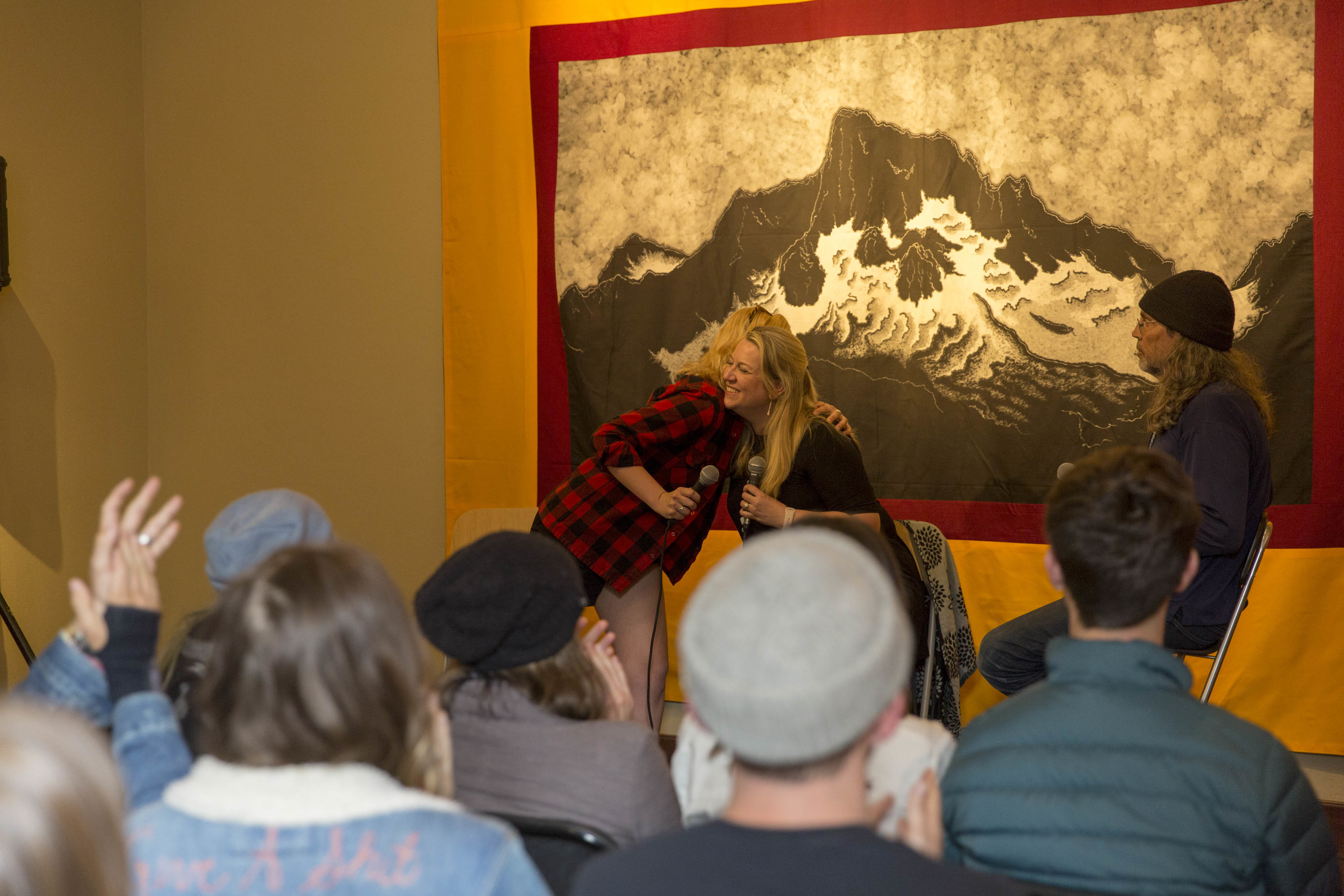 Strayed and filmmaker Tom Shadyac host "What Now" coffee talk at 2018 festival. Photo: Simon Cordova
She added that it feels like the Moving Mountains Symposium theme of equity is uniquely timely for the festival this year. "I think it's a deeply important theme and one that's so in line with Mountainfilm's history of asking big questions about how we can evolve to become better, more compassionate citizens of our diverse planet. Pondering what equity means—whether it be in regard gender, race, class, physical ability, or any other form of difference—strikes me as essential to fulfilling Mountainfilm's stated mission to create a better world. At its essence, honoring equity is about being willing to value the power of every story, without privileging one. I love the idea of using the theme of equity as a focal point to inform some of the films and speakers that will be featured at the festival, but also as a conversation starter as we reflect as a community how to create more equality in all the work we do."
As Guest Director, Strayed will have input on programming, contribute to the events of this year's festival, and participate in a not-to-be-missed festival "What Now?" wrap-up session on Monday as the festival is winding down.
"Mountainfilm is thrilled that Cheryl will join us as the guest director this year," Festival Director Suzan Beraza said. "She is not only an icon as a world-renowned and celebrated author but is an activist dedicated to the betterment of society. Mountainfilm looks forward to collaborating with Cheryl to create engaging and impactful programming."