Mountainfilm Announces Symposium 2018 Lineup
Scholars, activists, journalists to take deep dive into the theme of migration
Mountainfilm will kick off its 40th Anniversary Festival by dedicating its Moving Mountains Symposium to one of the most pressing issues of our modern era: migration. To help guide audiences through the topic, the festival has gathered an impressive roster of scholars, activists, humanitarians and climate experts to speak at the event.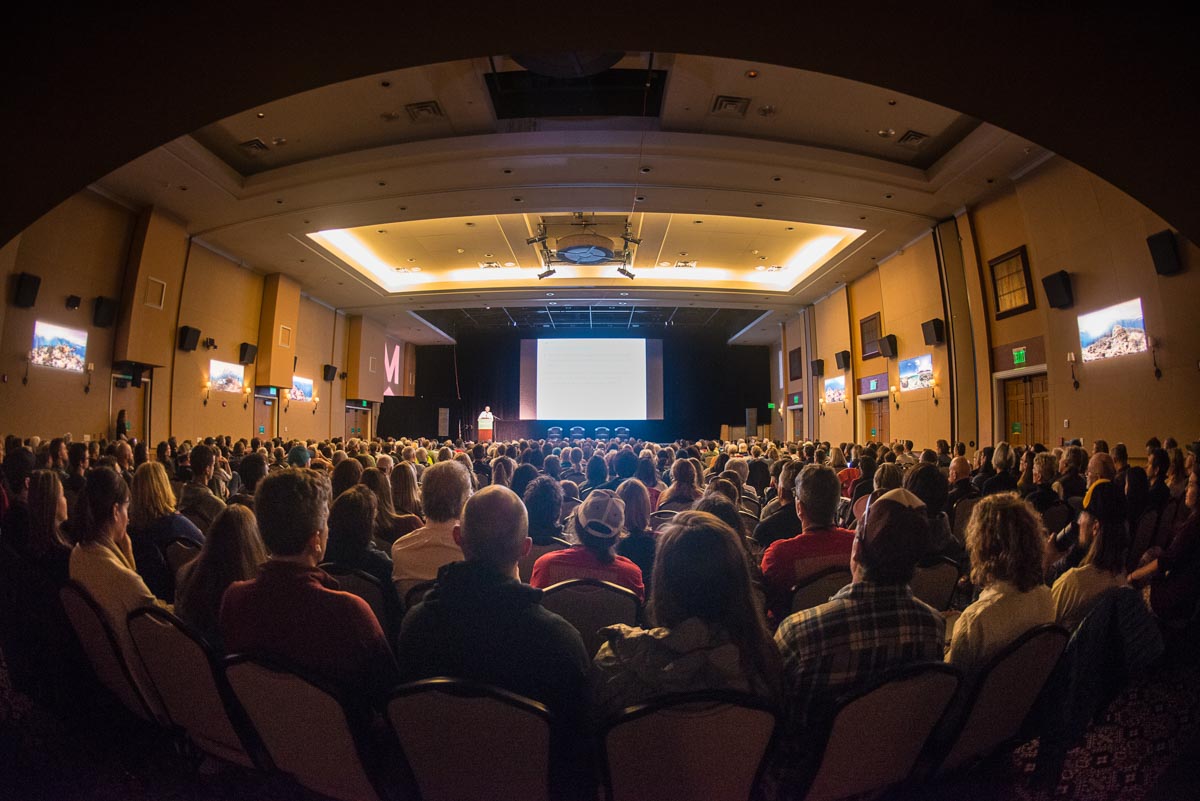 A packed audience during a recent Mountainfilm symposium. [Courtesy photo]
The half-day symposium, which is scheduled for May 25, 2018 in High Camp Theater, will feature a former UN senior advisor, immigrant leadership advocate, a preeminent author of the American Southwest and expert in forced migration, among others. Speakers will take the audience on a deep dive into several facets of the migration issue, from immigration reform in America to the international refugee crisis and the long history of human movement across the globe.
Festival Director Suzan Beraza said Mountainfilm is thrilled to present this international slate of migration experts.
"These speakers are at the top of their field and the leading edge of the issue," Beraza said. "The lineup features deep expertise and a great balance. We're looking at immigration policy and DACA, the international refugee crisis, and climate refugees, among other things. It also shows a real diversity — not only in the content, but in the guests — and that's something that we continue to aspire to achieve."
Mountainfilm's annual symposium will also come in a new format this year. Instead of speakers presenting through the opening day of the festival, the 2018 symposium will feature speaker presentations from 9 a.m.-12:30 p.m., followed by an afternoon screening of a migration-themed documentary.
Beraza said the change was prompted by feedback from the audience that an all-day symposium could be taxing. Mountainfilm is mixing it up with the hope that it'll better keep the crowd engaged.
"This way, once the audience has gotten its fill of great presentations, people can stick around and watch a carefully curated film that will further the conversation," Beraza said.
Beraza said she's particularly excited to host Elizabeth Ferris, an author and scholar who has spent her career working in international humanitarian issues. "She's a tour de force," Beraza said. Other guests she's thrilled about include MacArthur Award-winning social justice organizer Cristina Jimenez and Francois Germenne, whose research focuses on climate displacement and adaptation. New York Times science writer Henry Fountain will emcee the event.
Mountainfilm's 2018 symposium lineup:
Immigrant leadership advocate, speaker and writer Sayu Bhojwani works to make American democracy more inclusive. Bhojwani is founder of the New American Leaders Project, which fosters leaders in immigrant communities and helps them run for public office. As New York City's first Commissioner of Immigrant Affairs, she worked to pass legislation to protect the rights of workers and increase access to translation and interpretation services. Bhojwani is the founder of South Asian Youth Action (SAYA) and holds a doctorate in politics and education from Columbia University.
Craig Childs is a writer of the American southwest who focuses on natural sciences, archaeology, and remarkable journeys into the wilderness. His work has appeared in The New York Times, Los Angeles Times, Men's Journal, Outside, Orion, and High Country News, and he has authored more than a dozen books. His newest book, Atlas of a Lost World: Travels in Ice Age America, follows the first human migrations into the New World during the Ice Age. It is due out this spring. The Arizona native currently lives in Norwood, CO.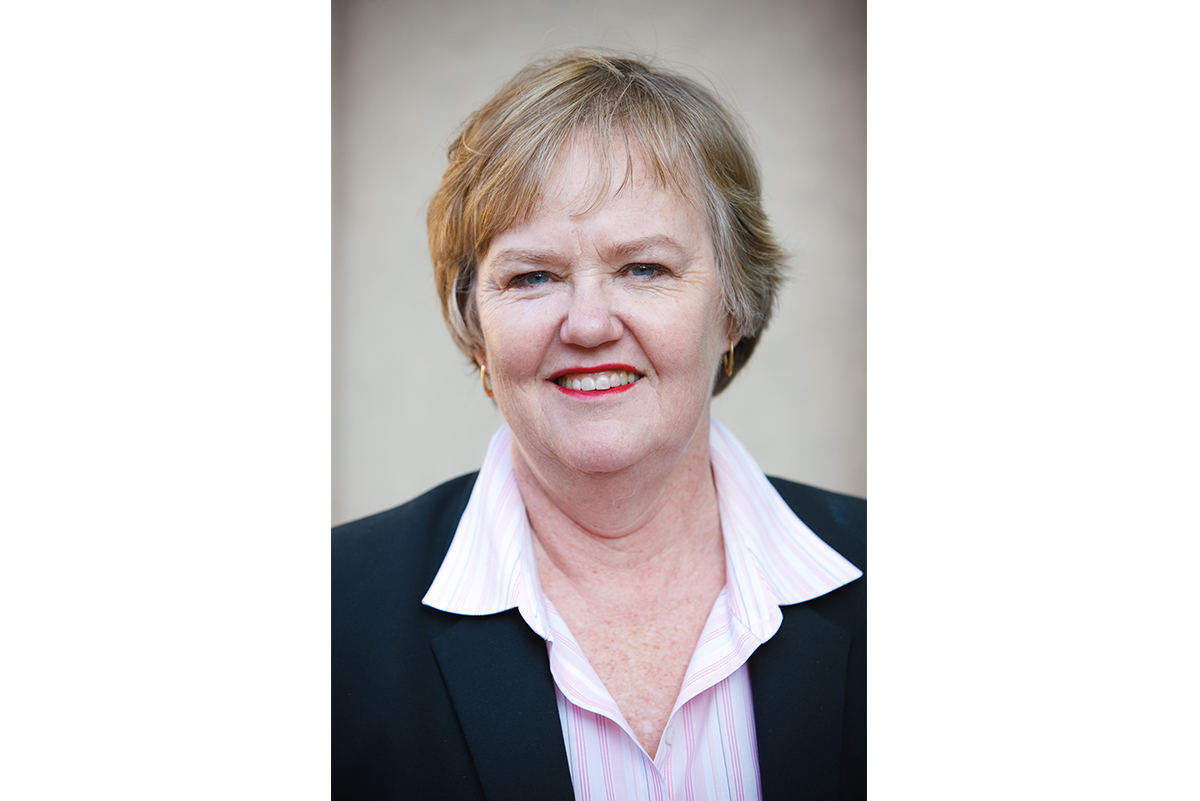 Former UN senior advisor Elizabeth Ferris has spent her career working in the field of refugee aid. [Courtesy photo]
Elizabeth Ferris has spent her career working in the fields of refugees, migration and humanitarian issues. She is a research professor with the Institute for the Study of International Migration at Georgetown University's School of Foreign Service, and a nonresident senior fellow in Foreign Policy at the Brookings Institution. In 2016, she served as a senior advisor to the UN General Assembly's Summit for Refugees and Migrants in New York. She is the author of several books, including Consequences of Chaos: Syria's Humanitarian Crisis and the Failure to Protect.
Journalist Henry Fountain covers climate change for The New York Times, with a focus on the innovations that will be needed to overcome it. He also writes about science-related subjects such as earthquakes, hurricanes, mudslides, nuclear accidents and other natural and human-caused disasters.
An expert of environmental geopolitics and migration policy, Francois Germenne is a research fellow in political science and associate expert with the Centre de Recherches Internationales. His research deals mostly with populations displaced by environmental changes and the policies of adaptation to climate change. His field studies have taken place in post-Katrina New Orleans, Tuvalu, the Maldives and Mauritius.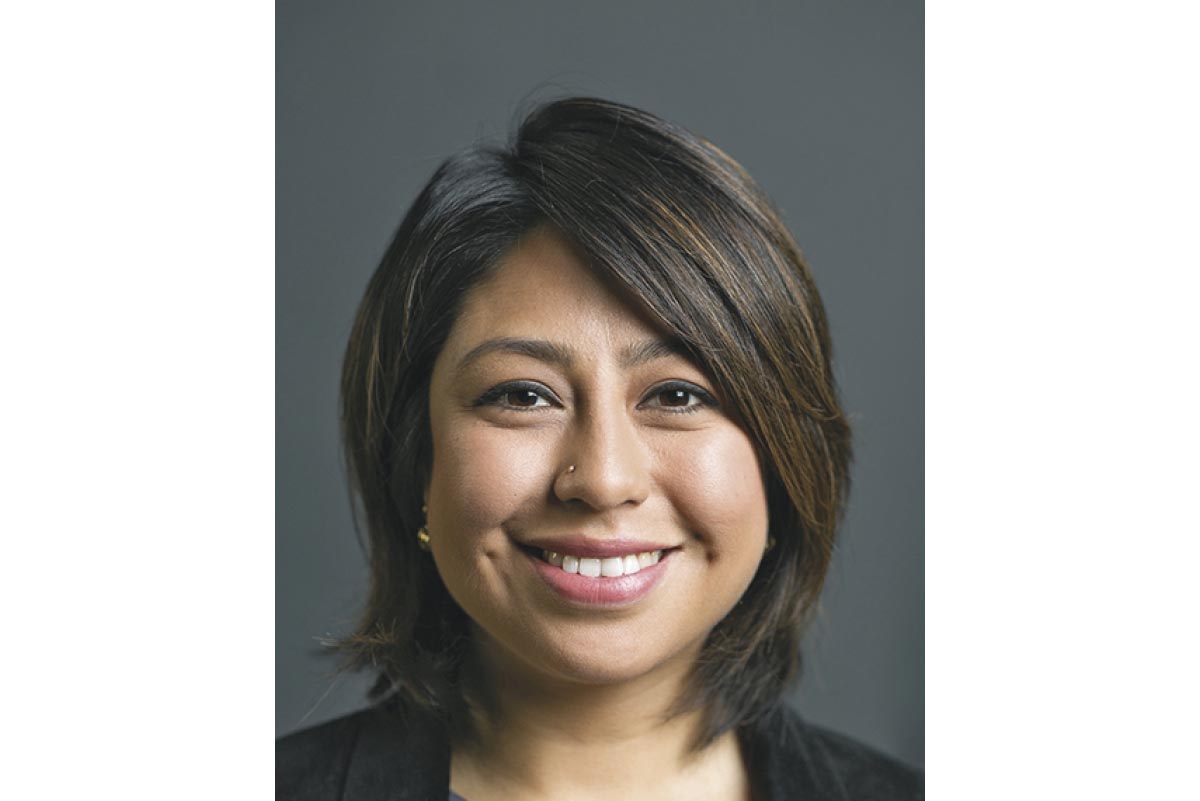 Cristina Jiménez is co-founder and executive director of United We Dream. [Courtesy photo]
Cristina Jiménez, who arrived in the United States from Ecuador as an undocumented immigrant at the age of 13, is co-founder and executive director of United We Dream (UWD), a nationwide network of affiliated groups, organizations and individuals focused on addressing the needs of immigrant youth and families. Jiménez works to change public perceptions of immigrant youth and shape the debate around immigration policy. The social justice organizer is 2017 MacArthur Fellow.
Symposium tickets are included in the purchase of Palmyra, Ama Dablam and Patron passes.