MountainSummit in Aspen Offers Taste of Mountainfilm on Tour
Sitting on the edge of an idyllic pond at the Aspen Center for Environmental Studies with writer and adventurer Jedidiah Jenkins, ski mountaineer Chris Davenport and professional slackliner Josh Beaudoin, I wondered if I had died and gone to Walden's Pond. Canada geese paddled around the water, late summer sun filtered through the trees and steam rose from our coffees. In front of a small gathering of people who had showed up for this outdoor discussion, these three great minds shared their thoughts on presence, flow, breaking routines and squeezing the most out of life. To call it inspiring wouldn't do it justice.
I think it's safe to say that everyone else was feeling it, too, because when Beaudoin suggested a group hug at the end — a first for a Mountainfilm Coffee Talk, as far as I can tell — nobody hesitated to join the huddle.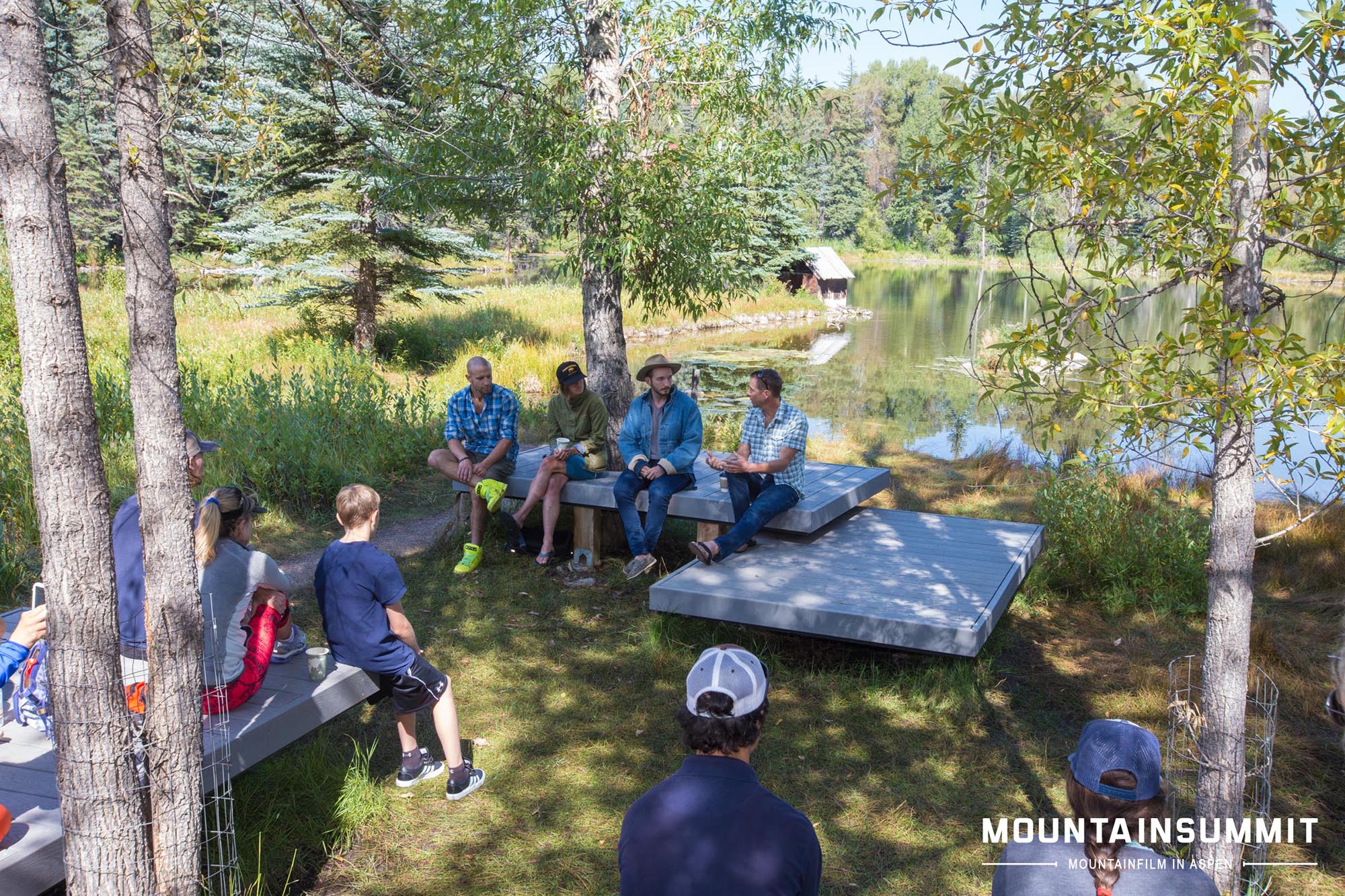 Josh Beaudoin, Katie Klingsporn, Jedidiah Jenkins and Chris Davenport at an outdoor coffee talk. Photo: Jordan Curet
It was day three of MountainSummit in Aspen, Colorado, a showcase of Mountainfilm's best programming that takes place every August in the state's other famous ski town. The event, in its seventh year, is one of a growing number of Mountainfilm on Tour stops that have developed into mini-Mountainfilm festivals.
MountainSummit, which is presented by the folks at the beautiful Wheeler Opera House, featured a stellar four-night run of such films as Meru, The Diplomat, No Cameras Allowed, Very Semi-Serious and Unbranded in the historic theater. And in true Mountainfilm fashion, it went beyond the film medium by bringing programming to intimate venues, concert halls and outdoor spots around town.
There were engaging Q&As with filmmakers David Holbrooke, Marcus Haney, Nathan Ward and Pete McBride. Talks with people like writer Craig Childs and Ben Masters, the subject of Unbranded. The crew from The Rider & The Wolf rode penny-farthings around downtown, slacklines and climbing walls were set up in a nearby park, an interactive mural was built in the theater and Nathaniel Rateliff and the Night Sweats played a concert at the Belly Up. But the grand finale went to a horse named Tuff, one of the mustangs featured in Unbranded. When the stage lights went up Sunday night following a screening of the film, the crowd got a big surprise: Tuff was standing onstage with Masters, placidly chewing on snacks, oblivious to his star status.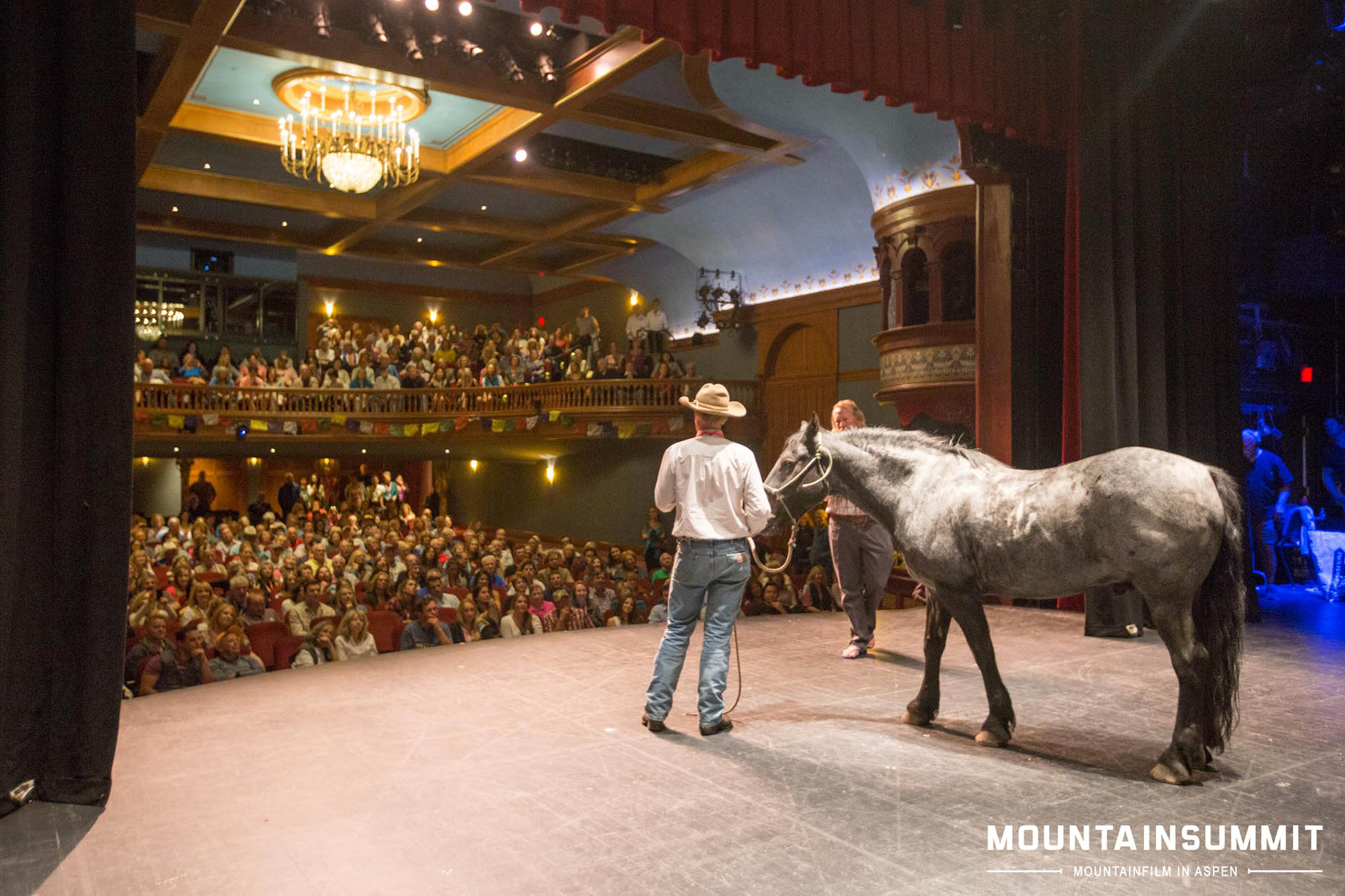 Ben Masters led Tuff on stage after the closing night screening of Unbranded. Photo: Jordan Curet.
It was my first time at MountainSummit, and it lived up to my high expectations. I was impressed by the professionalism of the Wheeler staff, the inquisitiveness of the crowds and the natural beauty of Aspen. You might call me biased, but I'm not the only fan: I was approached by several people during the four days who told me they never miss a MountainSummit.
The event is just the tip of the iceberg for Mountainfilm on Tour, which travels year-round with a selection of best-loved festival films. The touring arm of our organization has a full schedule planned for the fall and winter with stops in places from California to Chile and Idaho to England. Along with public screenings, the tour features traveling film education programs for students. Check out the upcoming Mountainfilm on Tour schedule, and get yourself a ticket. That way, you'll be there if a spontaneous group hug breaks out or a horse appears onstage.
—Katie Klingsporn, Mountainfilm program director