Mountainfilm's Mobile App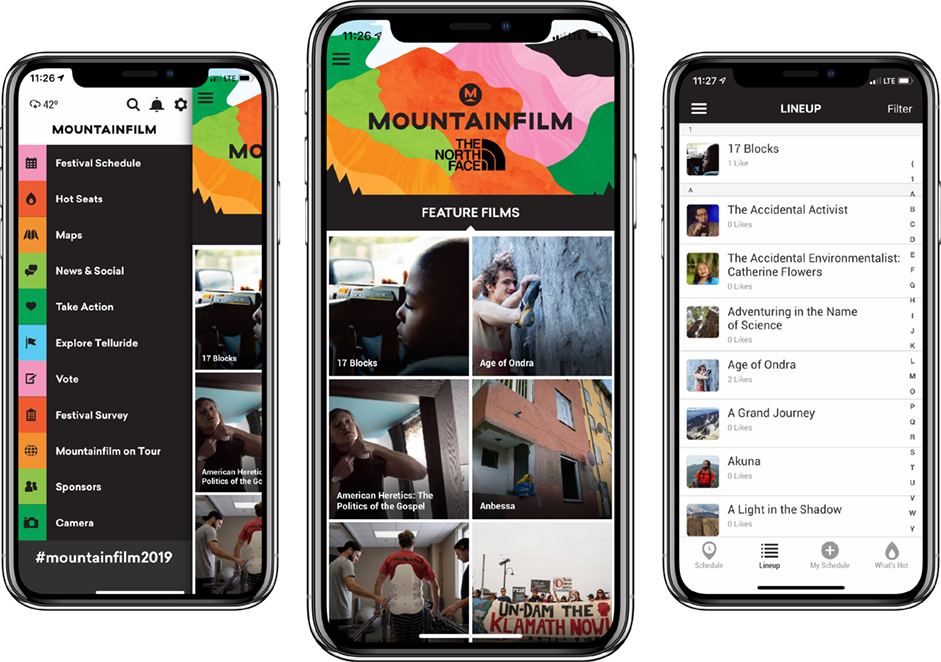 Stay up to date during the festival with Mountainfilm's mobile app. All of the program information — films, presentations, events and more — is at your fingertips.

 If you already have the app, be sure to update it so you have the current festival information. We hope the app will help make your festival experience even better. Some features include:
Hot Seats
With the Hot Seats function, you can see seat availability in real time and increase your chances of getting into programs by checking to see which theaters have empty seats.
Notifications
Opt-in to notifications and receive alerts about schedule changes, TBAs and general festival updates. You can choose which notifications you would like to receive and if you hate notifications, you can find all of this information in the News & Social tab.
Lineup
When you launch the app, you will see a list of feature-length films on the home screen. To see a full lineup of films, presentations, events, town talks, parties and more, visit the Lineup tab in the Festival Schedule section.
Filtering Events
You can easily filter events in the Lineup tab in the Festival Schedule section. Tap Filter in the top, right corner and select the type of event you would like to see. Remember to deselect events to return to the full lineup list.
My Schedule & What's Hot
This feature allows you to create your own schedule within the app. Tap Add to Schedule in any block and it will appear in the My Schedule tab. You can even set alerts to remind yourself of upcoming events. The What's Hot section shows you what other app users are enjoying. You can "like" an event by tapping the thumbs up in any block.
Take Action
Mountainfilm is dedicated to educating and inspiring audiences, but another motivation underlies our mission: We want to help promote action toward positive change. The Take Action tab connects you with all of the organizations and causes connected with the festival giving you the power to act when you are feeling inspired.
Vote
You can vote for the Audience Choice Award through the app. Make sure you have your pass handy to enter your unique voting code. Votes must be in by 1:45 p.m. on Monday.
Festival Survey
We want every festival to be better than the last. You can complete our festival survey for a chance to win a Palmyra pass to the 2020 festival in the app. We'll announce the winner on June 17.
---
Download the App
Download the app below or by searching "Mountainfilm" in the app store for iOS and Android devices.