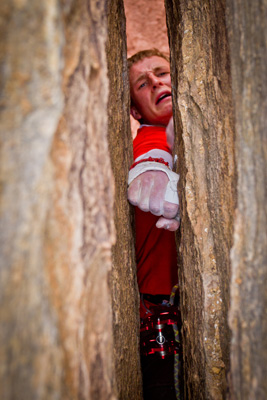 WideBoyz
Year

2012

Country

UK

Duration:

50 mins
Overview
This film features bloody knuckles, all-out grunt sessions and willful participation in pain. Welcome to the world of off-width crack climbing, a sub-genre that attracts a rare breed willing to jam elbows, knees, torsos — whatever it takes, really — into large cracks for climbing ascents. It's painful, tough and occasionally downright awful. But two British climbers, Pete Whittaker and Tom Randall, love it. WideBoyz follows the off-width-obsessed pair as they undertake an insane two-year training regime — most of it spent hanging upside down in the "dungeon of doom" they set up in Whittaker's basement — in preparation for a trip to the holy land of off-widths: the American West. After touring some of the country's best known big cracks — and ticking them off with impressive swiftness — they head to the ultimate test. The Century Crack, 120 feet of overhanging off-width in the Canyonlands of Utah, is considered the world's hardest off-width. After dreaming about the first ascent of it for years, the British duo finally gets a shot at this beautiful, hellish crack.
Production Team
Director

Paul Diffley Chris Alstrin
Festival Screenings
Featured in the 2013 Mountainfilm Festival.