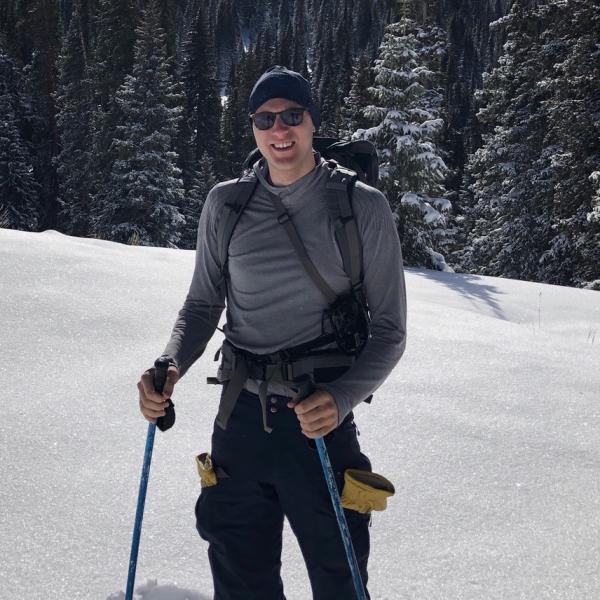 Dylan Hoos
MOUNTAINFILM BOARD OF DIRECTORS, SECRETARY
Dylan Hoos moved to Telluride in 2014 in hopes of combining a life of outdoor adventure with meaningful work in a mountain town. He developed a love for the outdoors during his childhood in the Blue Ridge Mountains of Virginia, where he and his family skied and played outside nearly every weekend. His dual mission in life is to promote social justice and equal opportunities and to protect the natural environment. Hoos is a program officer for a New York-based foundation, the Johnson Family Foundation, where he helps oversee work across several issue areas that he cares deeply about, including community building, entrepreneurship, the environment, nutrition and food justice, LGBTQ equality, social justice and Colorado grant-making. His grant-making experience has involved program development and execution spanning from national policy work to place-based programs in small towns. His first job in Telluride was working for the Telluride Foundation to structure and implement new economic development programs in post-resource-extraction communities. In his time with the Saul Zaentz Charitable Foundation, Hoos helped design procedures for the execution of over $40 million in grants, focused on social equity and creating a level playing field for those living in poverty and adversity. For five summers, he guided outdoor adventure trips in California, Colorado and Puerto Rico.
Hoos holds a degree in Urban and Environmental Planning from the University of Virginia, where he also studied architecture. He spends his time skiing, mountain climbing, seeking out beautiful architecture, storytelling and traveling to experience new cultures and copious amounts of exotic food.