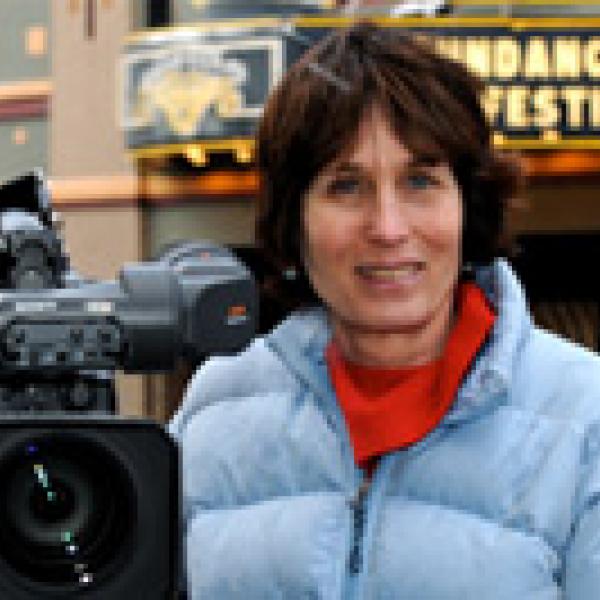 Anne Makepeace
Anne Makepeace has been a writer, producer, and director of award-winning independent films for more than twenty years. Her documentary, entitled, We Still Live Here, is about the return of the Wampanoag language. 
 We Still Live Here was funded by the Sundance Documentary Fund, ITVS, the LEF Foundation, and the National Science Foundation, and others, and will be broadcast on PBS in 2011. Makepeace also won fellowships in support of the project from the Guggenheim Foundation and the Radcliffe Institute for Advanced Study. Jessie Littledoe Baird, a Wampanoag linguist whose story is central to the film, recently won a MacArthur "genius" award for her amazing and unprecedented work in bringing back her people's language, a language that had not been spoken for over a century.


Makepeace's last film, I. M. PEI: Building China Modern, was broadcast on American Masters in March, 2010, to great critical acclaim. the documentary followed the world-renowned architect I. M. Pei for seven years as he designed and built an art museum in his ancestral home of Suzhou, China. Makepeace's previous feature documentary, Rain in a Dry Land, chronicles the journey and resettlement of two Somali Bantu refugee families from Africa through their first two years in America. Rain in a Dry Land received a limited theatrical release through Emerging Pictures, was nominated for an Emmy, and was broadcast nationally as the lead show on PBS' P.O.V. series' 2007 season.
In 2005, Makepeace completed a short film about the indomitable Eleanor Roosevelt. Eleanor Roosevelt: Close to Home is shown repeatedly in her Val Kill home, now a museum in Hyde Park. In 2003, Makepeace completed Robert Capa in Love and War for the American Masters series. Makepeace won a national prime time Emmy and the Voice for Humanity Award at Telluride MountainFilm for CAPA, among many prizes. The film was broadcast nationally on PBS as well as on the BBC and many many foreign stations

Coming to Light, Makepeace's documentary about Edward S. Curtis, the pre-eminent photographer of Native Americans, was short-listed for an Academy Award in the feature documentary category, premiered at Sundance 2000, and was broadcast on American Masters/PBS in 2001, on Arte in France and Germany, and other foreign stations. Coming to Light won the O'Connor Award for Best Film from the American Historical Association, an Award of Excellence from the American Anthropological Association, a Gold Hugo from Chicago, Best Documentary at Telluride, and many others. Makepeace also completed a book about Curtis called, Edward S. Curtis, Coming to Light.

After years of working in the narrative feature world, Makepeace made her first documentary in 1998. An intimate personal film that explores the world of fertility intervention through the lens of her own experiences, Baby It's You premiered at Sundance 1998, was the lead show on P.O.V.'s 1998 season, and was broadcast on Channel 4's True Stories series. Baby It's You also screened as part of the Whitney Biennial 2000.

Makepeace also wrote the screenplay for the successful Thousand Pieces of Gold, an American Playhouse Theatrical feature, and the American Experience documentary Ishi, The Last Yahi. She wrote, produced and directed the dramatic films Night Driving, starring William Sadler, for Showtime Networks, Inc.; Wildest Dreams starring William Petersen and Rebecca Jenkins; Moonchild, an award-winning docudrama broadcast nationally on PBS about a religious cult; and Whistle in the Wind, a bi-lingual short drama about a Bolivian boy and his llama.


Anne Makepeace has twice been a writer/director fellow at the Sundance Institute's June laboratory, and served on the Sundance 2001 Film Festival's documentary jury. In additon to PBS, her films have been broadcast on Showtime, Bravo, HBO, NHK, the BBC, Channel 4 (UK), ABC Australia, ZDF Germany, Thames Television (UK) and many other networks around the world. In addition to many festivals, her films have been screened at the Whitney Biennial, the Smithsonian, the Musée de l'Homme, the Museum of the American Indian, and many other museums, schools, colleges, and movie theaters around the country. Her work has been funded by the Pulitzer Foundation, the Sundance Documentary Fund, the Corporation for Public Broadcasting , ITVS, the NEA, the NEH, the Ford Foundation, American Masters, Showtime Networks Inc., HBO, A&E, and the American Film Institute. She has twice been a writer/director fellow at Robert Redford's Sundance Institute, and served on the Sundance 2001 Film Festival's documentary jury.